The GIST: Badgers and Bulldogs and Huskies, oh my! Women's college athletes are winning titles, breaking streaks and making their voices heard. But what else is new?
April 22, 2021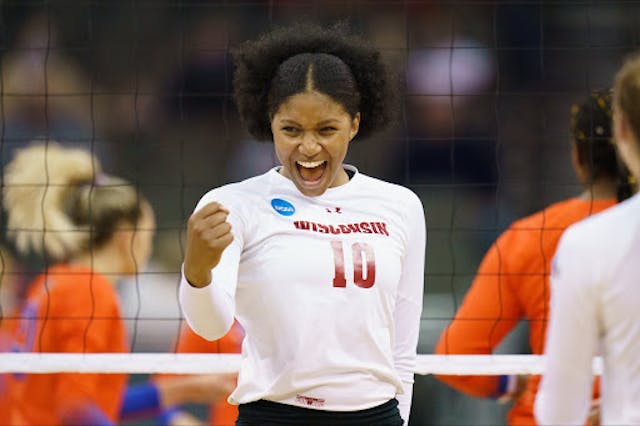 Source: Wisconsin Volleyball/Twitter
🏐Volleyball: And then there were four. The NCAA volleyball semifinals begin later today, with No. 2 Kentucky squaring off against No. 6 Washington at 7 p.m. ET. Kentucky has handled their opponents with ease, while Washington has had a tougher road, including a five-set quarterfinal stunner against Pittsburgh.
The following matchup features 2019 runner-up No. 1 Wisconsin vs. No. 4 Texas. Wisconsin is undefeated, but had to overcome a five-set battle in the quarters, while Texas hasn't advanced to the final since 2016.
🥎Softball: No. 1 Oklahoma was looking to extend their 40-game win streak on Tuesday, but No. 21 Georgia had other plans. After failing to touch home plate when she hit a homerun in the fourth inning (semantics), Jaiden Fields (sister of QB1 soon-to-be NFL star Justin Fields) hit a single in the ninth inning to lift Georgia to their 7–6 win. Sweet redemption.
🚣Rowing: On Monday, after UConn failed to respond to a letter stating that a lawsuit would be filed if the rowing team was not reinstated, members of the UConn women's rowing team marched in protest of the school (UConn is also cutting men's cross country, swimming & diving and tennis).
Twenty-three team members also filed a complaint against the university on March 29th. And protestors wrote "IX" on their bodies as they marched through campus yesterday, referencing .
UConn responded on Monday saying that they will not be revisiting the decision to reinstate the four teams that were cut. Stay tuned...