The GIST: It's a big week for LA football. Let's dive in (before we become too hopeful at the slightest possibility of Pau Gasol returning to the Lakers.)
December 10, 2020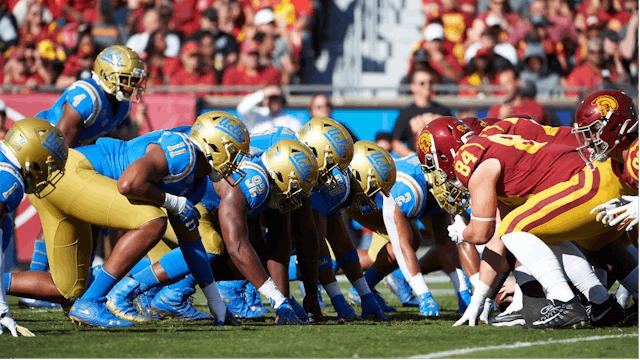 SOURCE: DON LIEBIG/UCLA PHOTOGRAPHY
College: It's Bread Rivalry Week. There might not be fans or pranks when No. 16 USC takes on UCLA on Saturday at 7:30 p.m. ET/4:30 p.m. PT, but nothing fires up the competitive juices more than this crosstown rivalry. The Victory Bell and bragging rights are at stake.
The undefeated Trojans will punch their ticket to the Pac-12 Football Championship Game with a win in what USC fans call a *cough* lopsided rivalry. The Bruins, on the other hand, hope that New England Patriot head coach Bill Belichick's pep talk (and the hype of being outfitted in Jumpman next year) powers them to victory.
Rams: On the NFL front, the Rams have a juicy matchup against the aforementioned Patriots tonight at 8:20 p.m. ET/5:20 p.m. PT. Defensive tackle Aaron Donald will prove vital in pressuring Patriot quarterback Cam Newton since the Pats rely heavily on their run game. The Rams already handled Tom Brady this season, who's to say they won't beat Bill Belichick too?
Chargers: Even after last week's blowout loss, Anthony Lynn will surprisingly finish the season as the Chargers' head coach and take over coaching special teams. Like, how? The Bolts will see a familiar face in Sunday's matchup against the Atlanta Falcons: red-hot kicker Younghoe Koo, who was cut by the Chargers in 2017. With the Bolts' special teams disasters and Koo's recent successes, it's hard not to look at certain decisions and sigh.