The GIST: Once again, the Celtics leveraged their platform to call attention to social injustice and stand up for what's right. And they secured a 107–105 nail-biter win over the Miami Heat. Wicked proud.
January 08, 2021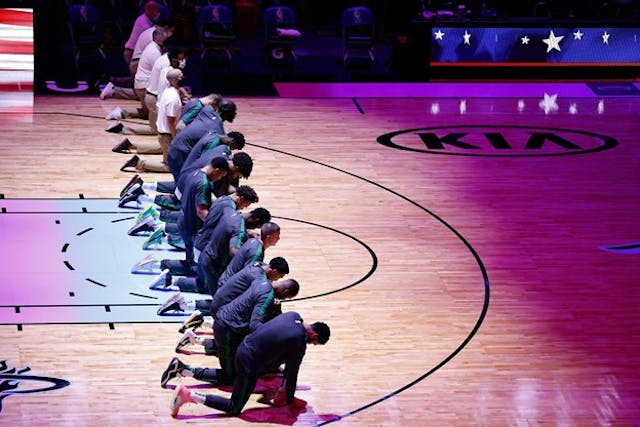 SOURCE: MICHAEL REAVES/GETTY IMAGES
🏀Celtics: The C's and the Heat walked off the court in unison prior to last night's game. They eventually decided to play and released a joint statement explaining their decision while still highlighting the ongoing injustice. Players from both teams also kneeled during the national anthem.
On the hardwood, rookie Payton Pritchard nailed the game-winner with 0.2 seconds remaining, lifting the Celtics to yet another last-minute victory. This rookie has been looking more and more like a vet.

And Jayson Tatum and Jaylen Brown continued to lead the offense, combining for 48 points. Super impressive, but it's their off-court action and advocacy that continues to inspire us.
🏀College basketball: In other hoops news, BU's basketball teams garnered national attention after wearing masks during their season openers vs. Holy Cross on Monday. BU's athletic department requires all athletes to wear masks during workouts, practices, and games, meaning opposing teams must also wear them when competing at BU.
The masks didn't hinder the Terriers, as both the women's and men's teams picked up a W in their season openers. Hooping in safety and style.