The GIST: The Eagles have hung up their helmets after an embarrassing 20–14 loss to the Washington Football Team yesterday. It may be January, but we're leaving this season in 2020.
January 04, 2021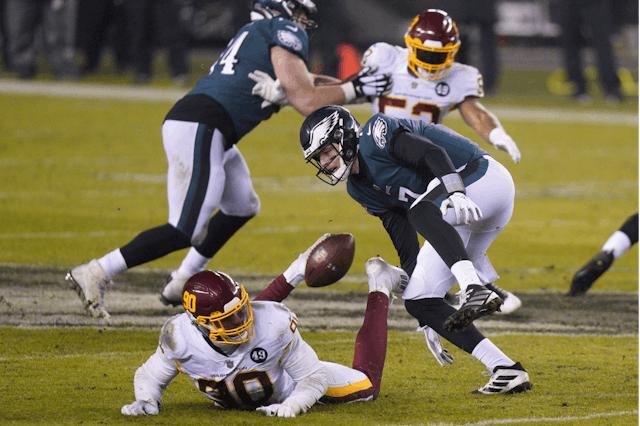 SOURCE: CHRIS SZAGOLA/AP PHOTO
🏈Over and out: The Birds enter the offseason with many unanswered questions, the first being what the future holds for QB Carson Wentz. He recently made it clear he'd like to be traded now that first-year phenom Jalen Hurts has taken over as the starter.
Even though Hurts has retained the starting spot over the past five weeks, his play has been inconsistent, which is somewhat typical for a rookie. Wentz, on the other hand, is a seasoned QB in whom the Eagles have invested a lot of resources. Will the Eagles be willing to trade away Wentz's experience and gamble on 22-year-old Hurts?
To be decided: One of Wentz's core complaints is his "fractured" relationship with head coach Doug Pederson, but Pederson's future with the Eagles isn't set in stone yet either. Defensive coordinator Jim Schwartz has already said he won't be returning, making some think the front office is preparing to welcome in a whole new coaching staff. 2021 is ready to make some waves.
🏀On to the next one: The 5–1 Sixers have started strong under new head coach Doc Rivers, who's running the show how he wants. The squad's back tonight against the Charlotte Hornets at 7 p.m. ET.