January 27, 2020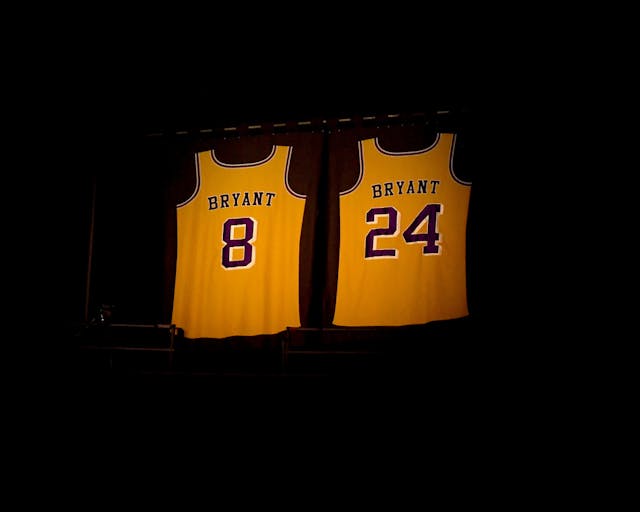 The world has lost a legend. Former NBA superstar Kobe Bryant was killed in a helicopter accident yesterday, along with his 13-year-old daughter Gianna and seven others: Orange County College baseball coach John Altobelli, his wife, Keri, and daughter Alyssa, Harbor Day School girls' basketball coach Christina Mauser and three others that, as of writing, have yet to be confirmed.
The group was said to be on their way to Mamba Sports Academy, Kobe's multisport youth training facility in Thousand Oaks, California, for Gianna and Alyssa's basketball tournament, when the helicopter suffered mechanical failure and crashed in Calabasas, California.
Kobe, 41, and Vanessa, his wife of almost 19 years, had four daughters together: Natalia, Gianna, Bianka and newborn Capri. He is best known for his iconic 20-season career with the Los Angeles Lakers, where he won five NBA championships and two Olympic gold medals while racking up an NBA MVP award, two Finals MVPs and 18 All-Star nominations before retiring in 2016.
Kobe Bean Bryant was a Philadelphia native and top-ranked talent at Lower Merion High School before he was picked 13th by the Charlotte Hornets in 1996, making him the youngest NBA player in history (at the time) and first guard drafted right out of high school. Bryant was traded to the LA Lakers on draft night, and he made sure the Hornets regretted it.
Even his 60-point final game was legendary, perfectly summing up his widely respected "Mamba Mentality" in one classic moment. Both his jersey numbers, 8 and 24, have been retired by the Lakers and hang in the Staples Center rafters.
And Kobe's NBA involvement was still ongoing. On Saturday, LeBron James surpassed Bryant to become the NBA's third-highest scorer of all time. The night before the tragic and shocking crash, Kobe took to Twitter to congratulate his friend for "moving the game forward."
After his retirement, the "Black Mamba" was often seen sitting courtside at NBA and WNBA games with his daughter Gianna, whose middle school team he coached. But his impact has also been felt away from the game — he started a company called Granity Studios, which develops books, podcasts, TV shows and movies, and won an Oscar for Best Animated Short in 2018.
Kobe's second-oldest daughter, Gianna Maria-Onore (or GiGi, as she was affectionately called), was a rising star in her own right. The thirteen-year-old, nicknamed "Mambacita," had goals to follow in her dad's hardwood footsteps and continue his legacy. And she definitely had the talent to do it, thanks in part to the bond she shared with her father over the game of basketball.
What makes this tragedy hurt even more is the loss of such a bright future. GiGi was an elite baller with aspirations to play college hoops at UConn and she had the full support of her legendary dad behind her.
Kobe and GiGi used their large platform to speak highly of women's sports — especially basketball — and helped grow the game by simply giving women the positive attention they deserve. GiGi, a promising young life who could've led the next generation, was taken way too soon.
Kobe was a player and a fan. His impact on the game was immeasurable, and his support of women's sports was remarkable. He was a steadfast figure at WNBA games and women's soccer matches, mentoring players like Oregon superstar Sabrina Ionescu and supporting girls' youth programs across the country.
We would be remiss if we didn't say that Kobe wasn't perfect, and some may have difficulties mourning this loss. We know that he was a complicated character, but we also know that it's okay to mourn complicated characters. Today, we choose to focus on the good that Kobe brought to the NBA, WNBA and sports world in general.
His loss has already been felt globally, with former teammates, rivals, politicians, celebrities and athletes from every sport publicly expressing their reaction to the news. NBA teams in action yesterday honored Kobe with 8 and 24 second shot-clock violations to start the games, and a shrine has been set up outside the Staples Center, where he played as an LA Laker.
Many current NBA and WNBA players cite Kobe as their idol and the reason they began playing the game, and all were saddened and shocked by the loss of such an impactful and legendary figure in the sport and by the loss of his legacy in Gianna. While the world grieves, our thoughts are with Kobe's wife and GiGi's sisters.
Life is short. Tell people you love them. Give someone a big hug. Be kind to yourself. And, as Kobe said, "Have a good time."