February 10, 2020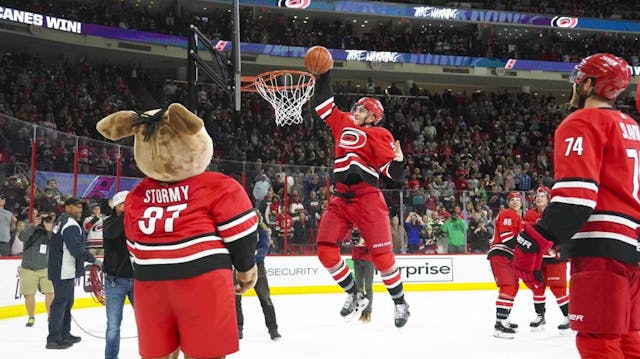 The GIST: We're two thirds of the way through the NHL and NBA seasons, which means it's crunch time for teams on the playoff bubble. So, here's #thegist of where we're at heading into April's playoffs.
The good old hockey game: Sixteen teams qualify for the Stanley Cup playoffs — eight from the Eastern and Western Conferences, respectively. Current divisional leaders, the Washington Capitals, Boston Bruins, Vancouver Canucks and reigning Stanley Cup champs St. Louis Blues all seem like shoo-ins (unless we just jinxed it). But the teams we really have to keep a close eye on are those hovering between seventh and 12th place in the conference.
In the East, we're keeping an eye on the battle between the Carolina Hurricanes and the Philadelphia Flyers for a final playoff spot. The real question is, will we see Gritty or Storm Surges in the playoffs?
Over in the West, it's a tighter race for a wild card spot, with six teams within reach. But if we were betting women, we'd put good money on the Calgary Flames and Arizona Coyotes making it in as wild cards.
We're playing basketball: Over in the NBA, it's pretty much the same. The top eight teams from each of the two conferences (East and West) qualify for the playoffs, and while the top six teams in each conference are basically set, the bubble teams will have to fight extra hard to claim those last two spots.
In the East, the Washington Wizards will have to channel their inner Harry Potter Hermione Granger as they chase the Brooklyn Nets and Orlando Magic for one of the last two remaining spots.
In the West, it's looking like it'll be a battle between the Memphis Grizzlies and the Portland Trail Blazers for the eighth seed. Buckle up.