Let's dive into the Union's best-in-the-league regular season performance.
November 10, 2020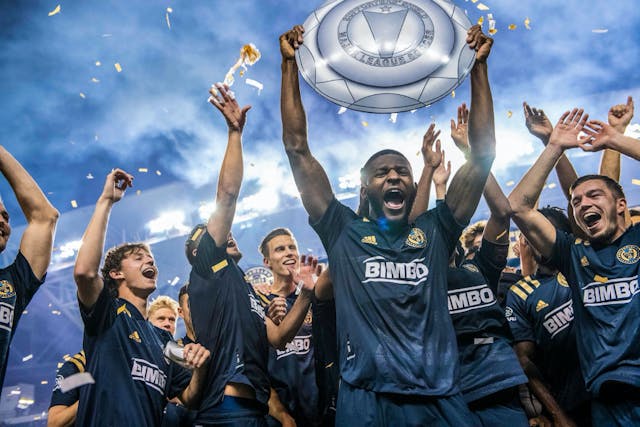 SOURCE: PHILADELPHIA UNION/TWITTER.COM
The GIST: With the country's eyes on Philadelphia this week, it was amazing to see how impactful Philly athletes, including Gritty, were in encouraging civic engagement. But with the election mostly behind us and the Eagles on a bye, let's dive into the Union's best-in-the-league regular season performance.
Show me some hardware: Yesterday, the Union beat the New England Revolution 2–0 to close out the regular season. Forwards Sérgio Santos and Cory Burke each found the back of the net by being at the right place at the right time. With this win, Philly achieved a 14-5-4 (wins, draws, losses) record, securing the Supporters' Shield.
The Shield is the first trophy the Union have won in their 10-year history, and the club owes much of this success to Sporting Director Ernst Tanner. He was brought on in 2018 and, since then, has successfully revamped the Union's roster and their mentality.
For all the marbles: The top-ranked Union now have 10 days to rest and prepare for the Audi 2020 MLS Cup while the lower-ranked qualifying teams in the Eastern Conference compete in play-in games on November 20th. The Union will face the lower-seeded team of the two play-in winners in Round One, and thanks to that No. 1 ranking, the Union will host all of their games throughout the tournament.
While we wait for playoff soccer to start, sit back, relax, and hope goalkeeper Andre Blake will return in time for the playoffs. Let's go!