February 04, 2021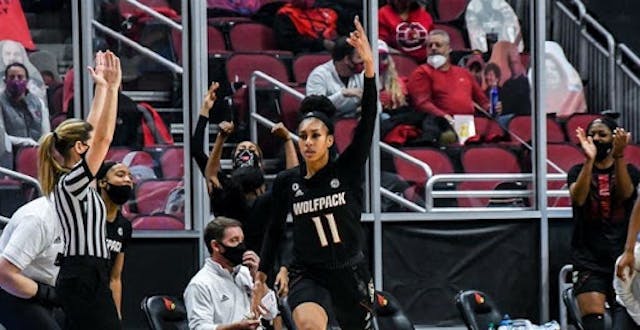 Source: ACC Media
The GIST: You literally can't win 'em all when it comes to women's basketball (WBB) this season. Thanks to Monday's thrilling upset, there are no longer any undefeated teams in the top 25. Spicy.
🏀Upset alert: The game was delayed by , but No. 1 Louisville finally squared off against No. 4 NC State on Monday...and the teams did not disappoint. Thanks to the return of NC State's star center Elissa Cunane, the Wolfpack earned the upset win, beating Louisville 74–60.
With the win, NC State notched their second win against the top-ranked team this season (they beat No. 1 South Carolina on December 3rd), making them just the third team in the last 20 seasons to take down the No. 1 twice in the same year.
💪Top players to watch: The late season (MVP of WBB) was released on Monday and, just like this year's NCAA Championship, it's tough to predict who will take home the honor.
UConn phenom Paige Bueckers (pronounced BECKERS) is the list's lone freshman. Bueckers recently passed 2020 WNBA Finals MVP Breanna Stewart's UConn record for scored through the first 10 games as a freshman. Decent company.
And keep an eye on Louisville guard Dana Evans. The 2020 ACC Player of the Year has been lights out in her senior campaign, averaging 20.1 points per game. We think the Cardinals' first loss of the season will only add more fuel to her fire.
❤️Coaches to watch: Dave and Maureen Magarity squared off earlier this season for the first-ever father-daughter Division 1 college basketball coaching matchup, giving us all of the feels. And now, as Dave , his final game will be this Sunday at 3 p.m. ET, against Maureen's Holy Cross squad. Get your tissues ready.