The GIST: We hope you didn't burn through all of your quarantine activities, because, for the first time since 2008, we won't be spending our January weekends watching the Patriots in the playoffs. Hey, at least we have the NFL offseason rumor mill to keep us busy.
January 04, 2021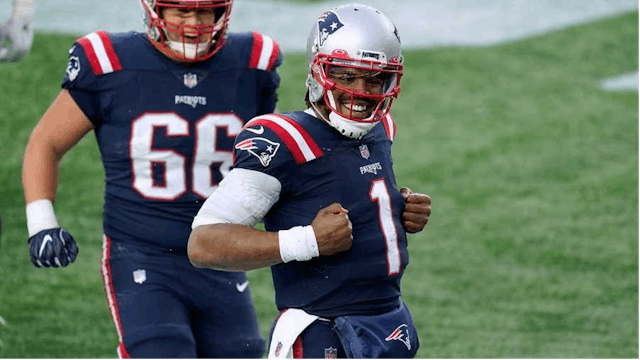 SOURCE: ELISE AMENDOLA/AP PHOTO
🏈Patriots: Glass half full perspective? The Pats ended the season as winners, defeating the New York Jets 28–14 yesterday. In what was likely his last game as a Patriot, QB Cam Newton dazzled with this nifty trick play, becoming the first QB in Patriots history to catch a TD pass. (Take that, Tom.)
With Cam and the Pats reportedly parting ways after their one-year fling, offseason priorities include securing a solid QB. Luckily, the Patriots currently hold the 15th overall pick in the 2021 NFL Draft and there's a long list of QB free agents up for grabs.
One rumor we can't stop thinking about? The possibility of current San Francisco 49ers QB Jimmy Garoppolo returning to the Pats. That's one ex we'd happily get back together with.
🏀Celtics: The C's bounced back in their mini-series with the Detroit Pistons, avenging Friday's loss with a 122–120 nail-biter victory yesterday. Jayson Tatum came up clutch once again, drilling his second game winner of the season.
Next up, the Celtics look to keep the momentum going against a struggling Toronto Raptors squad. The game tips off tonight at 7:30 p.m. ET.