The GIST: What better way to tuck into the winter break (because let's face it, we're all mentally checking out for the next two weeks, right?) than with some NBA action.
December 21, 2020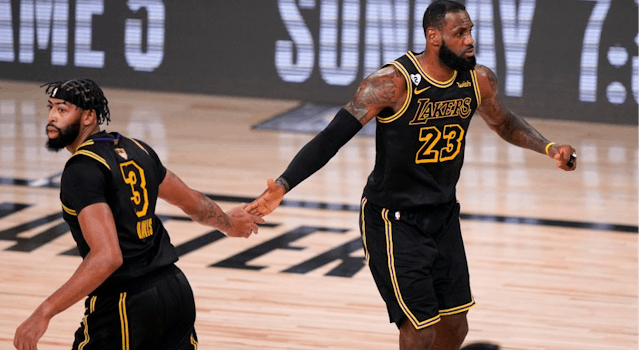 SOURCE: MARK J. TERRILL/AP
The setup: The NBA's regular season is starting tomorrow, just two months later than normal. Thanks to the late start, each of the league's 30 teams will play a condensed 72-game regular season (10 games fewer than usual), which is being split into two halves.
The first half runs from tomorrow to March 4th and the second half from March 11th to May 16th. Only the first half schedule has been released so far, as the league wants to see how well teams can follow COVID-19 guidelines.
If all goes as planned, the fan-favorite play-in tournament will start May 18th, followed by the first round of playoffs on May 22nd, and a champion crowned by mid-July.
The favorites: The LA Lakers won the last NBA Championship in October, and odds are they'll extend their reign with another win after locking down superstars LeBron James and Anthony Davis. They'll begin their campaign for back-to-back glory tomorrow at 10 p.m. ET, when they face their crosstown rival and championship contender LA Clippers.
The Milwaukee Bucks are still chomping at the bit for a championship, though, and after posting the league's best regular season record two years in a row, maybe third time's the charm?
And let's not count out the Brooklyn Nets. With Kevin Durant back in the lineup, we could see a new NBA champ...or at least some new memes.