The Lakers beat the Heat in Game 1 of the NBA Finals while the Dodgers were victorious over the Brewers.
October 01, 2020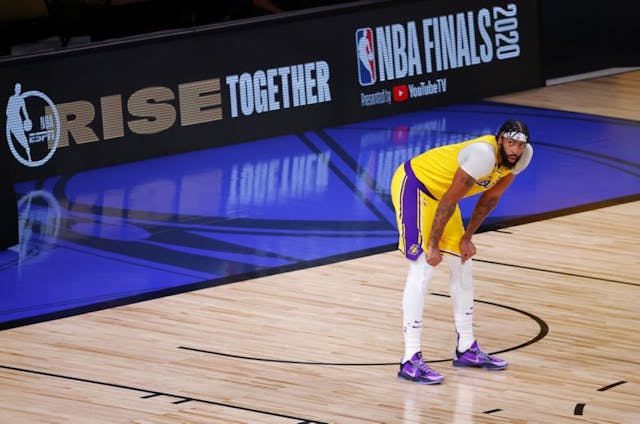 SOURCE: KEVIN C. COX/GETTY IMAGES
The GIST: Last night, we frantically flipped between watching the Lakers win Game 1 of the NBA Finals and the Dodgers take Game 1 of their Wild Card series. What do the schedulers have against LA?!
Three wins to go: The southern Californian heat may have roasted us, but the Miami Heat did not roast the Lakers in Game 1. The Purple and Gold overcame a slow start with the help of Kentavious Caldwell-Pope's 10 huge first-quarter points, before pulling away for an emphatic victory. We see you, KCP.
Game 2 tips off tomorrow night at 9 p.m. ET/6 p.m. PT. Showtime, baby.
Feeling hot, hot, hot: The Dodgers got it done in last night's 4–2 victory over the Milwaukee Brewers. Our LA boys raced out to a quick 3–0 start, but let the Brewers back in it with a two-run homer in the fourth inning. Thankfully, our multiple relief pitchers held the Brewers at two runs, and shortstop Corey Seager tacked on an insurance run to give the Dodgers breathing room. Still, too close for comfort.
Pitcher Clayton Kershaw and the boys in blue hope to close out the series tonight at 10:08 p.m. ET/7:08 p.m. PT. Here we go.
Say what: Spark Candace Parker, who was named Defensive Player of the Year (DPOY) by the media, was left off the All-Defensive First and Second Teams, as selected by WNBA head coaches. We're flabbergasted.
Media and coaches don't always see eye-to-eye, but excluding the DPOY from the All-Defensive teams is a historic first. Parker herself may say she's unbothered, but we're bothered AF. Get 'em in 2021, Candace.