February 24, 2020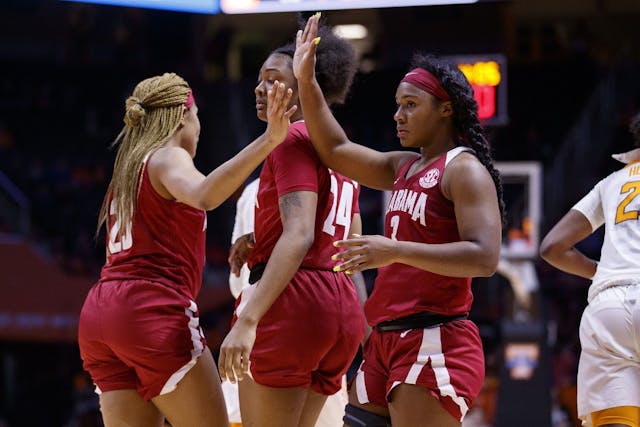 The GIST: Another week, another new top dog. This weekend's college basketball action more than lived up to the hype.
Women's basketball: As much as we were expecting some upsets this weekend, what we weren't expecting was for a chunk of the Top 25 to go down in one day — No. 8 UCLA, No. 9 Mississippi State, No. 11 Arizona, No. 12 DePaul, No. 17 Florida State, No. 21 Arizona State and No. 22 Arkansas all lost (!!!) to unranked teams on Sunday. Sheesh. With just two games remaining this season and rankings now up in the air, things are about to get interesting.
Meanwhile, No. 1 South Carolina kept their composure and locked up the SEC regular season championship with Sunday's 67–58 win over No. 14 Kentucky, which is v. important because March Madness rankings are based off of where teams finish in the regular season. Thatta way!
But wait, it gets better: No. 3 Oregon Ducks star Sabrina Ionescu has some famous new fans. Certified #GirlDad and Golden State Warrior Steph Curry took a page out of Kobe Bryant's book and brought his daughters to cheer on and support the Ducks phenom. Hopefully she picked up a tip or two, because we know the Currys will be watching when Oregon takes the court against No. 4 Stanford tonight at 9 p.m. ET, in one of the last showdowns of the regular season.
Men's basketball: The Baylor Bears' 23-game win streak and five-week run as the top-ranked team came to a close on Saturday, losing 64–61 to the No. 3 Kansas Jayhawks, making the Bears the seventh No. 1 seed to fall this season. Udoka Azubuike (pronounced AZ-UH-BOO-KEE) led the way for the Jayhawks, who are looking to return to the top spot just in time for March Madness.
But the shocking action didn't stop there: this season's last undefeated team, No. 4 San Diego State (SDSU) lost to unranked University of Nevada Las Vegas (UNLV), and No. 2 Gonzaga fell to No. 23 BYU on Saturday, so be on the lookout for some major ranking shake-ups this week.