Not all of LA's teams were popping champagne after this weekend's outcomes.
November 10, 2020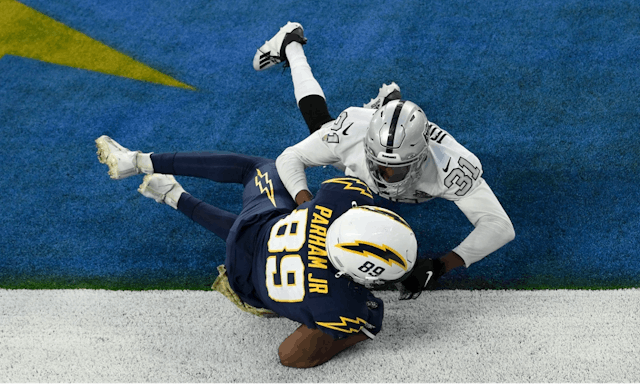 SOURCE: USA TODAY
The GIST: While LeBron was celebrating a future return to the White House, not all of LA's teams were popping champagne after this weekend's outcomes.
🏈Pac-12, start your engines: With only three minutes to save the game, USC said no problem. In a fan-less Coliseum, USC woke up from a sleepy and sloppy start to defeat Arizona State 28–27. However, with a shorter season and a weaker schedule, the Trojans will need sharper wins to make the College Football Playoff.
Unlike the Trojans, UCLA fell short of a comeback of their own with a 48–42 loss to Colorado. There weren't high expectations, but the underachieving Bruins still managed to disappoint. Womp womp.
In misery: Can't blow a double-digit lead if you never have one, right? Unfortunately, the Chargers found a new way to lose in a 31–26 heartbreaker to the Las Vegas Raiders. With one second left, it looked like tight end Donald Parham Jr. hauled in the game-winning touchdown, but it was overturned upon review. Pain.
⚾️Not dodging disaster: Dodger third baseman (now free agent) Justin Turner, who tested positive for COVID-19 during Game 6 of the World Series, will not face discipline from the league for his reckless decision to return to the field for the championship celebration. However, the damage is already done: county health officials announced that nine members of the Dodgers organization tested positive for COVID-19 as of Saturday. Yikes. Mask up!