The GIST: While it's getting chilly in Philly, our teams are just starting to heat up. This weekend, the Eagles upset the New Orleans Saints 24–21, Penn State recorded their third-straight win and the Sixers kick off the NBA preseason on Tuesday. Let's go!
December 14, 2020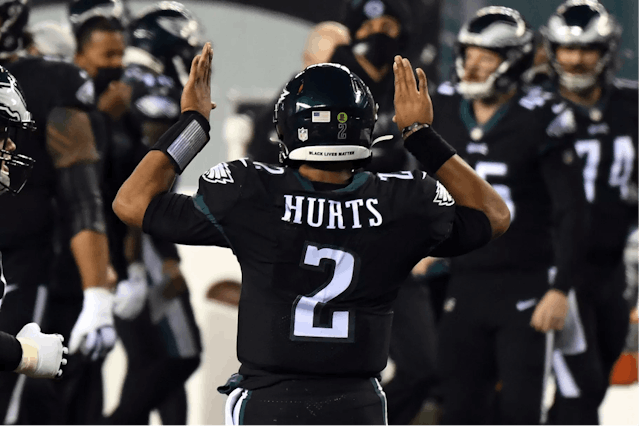 SOURCE: JAMES LANG/USA TODAY SPORTS
🏈NFL: In rookie quarterback (QB) Jalen Hurts we trust. In his first game as a starter, Hurts used his mobility to his advantage, running for 106 yards and throwing for 167 yards and a touchdown. His rushing performance made him the first Eagles QB to run for at least 100 yards in a game since Michael Vick in 2010. Talk about a debut.
With playoff chances looking rather bleak, it's exciting that Hurts has given us some hope for what a future Eagles' offense could look like.
College football: The Penn State Nittany Lions beat the Michigan State Spartans 39–24 on Saturday, closing out the regular season with a 3-5 record. PSU is slated to take on the Illinois Fighting Illini in the Big Ten's first ever Champions Week on Saturday at 5:30 p.m. ET. A win could help solidify the Lions' chances at earning a bowl game appearance. We Are!
🏀NBA: On the court, the 76ers tip off the NBA preseason against the Boston Celtics tomorrow. We're v. curious to see how head coach Doc Rivers overhauls the offensive strategy to blend new shooters like Danny Green and Seth Curry (brother of Steph) with returning studs like Ben Simmons and Joel Embiid. Only one way to find out.