Eagles have a bye week, Union will finish MLS season versus Revolution
November 05, 2020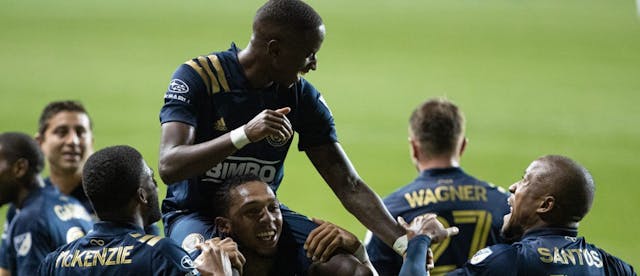 SOURCE: USA TODAY SPORTS
The GIST: If all you've been doing this week is double-checking that your mail-in ballot was counted, same. But now it's time for a much-needed distraction, so let's talk Philly sports.
🏈College rundown: Because the Eagles have a bye week, it's the perfect time to soak up all the college football. After two losses and getting knocked out of the AP Top 25, the Penn State Nittany Lions have something to prove. They'll be taking on the 1-1 Maryland Terrapins in Happy Valley on Saturday; the matchup is looking solid for PSU, even with Miami Dolphin Tua Tagovailoa's younger brother, Tualia, leading the Terps offense.
Back in Philly, the 1-3 Temple Owls will face the 6-1 SMU Mustangs. We'll restrain ourselves from making comments about the fact that SMU is ranked No. 18 while Penn State is not ranked at all, but we will say this matchup is not looking great for the Owls.
⚽️Sittin' pretty: The Union will close out their regular-season play on Sunday against the New England Revolution. This match will determine whether or not the Union can snag the Supporters' Shield (awarded to the team with the best regular season record). Right now, Toronto FC (FC stands for Football Club) has the exact same record as the Union, so it'll come down to the two matches on Sunday. Drama.
While we hope the Union pulls it out, they've clinched a playoff spot either way. Playoffs start November 20th following next week's play-in games. Time to DOOP it up.