After testing positive for COVID-19, Clemson's starting QB and Heisman trophy favorite, Trevor Lawrence, will miss at least two games.
November 02, 2020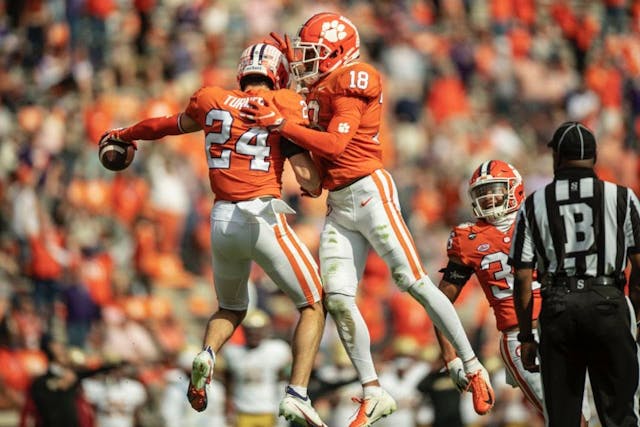 SOURCE: JOSH MORGAN/AP PHOTO
The GIST: College football's biggest star will miss at least two games after testing positive for COVID-19, and an ugly fight broke out at the lopsided Florida vs. Missouri game. Just another week in an already wild year college football season.
Which player tested positive?: Top-ranked Clemson's starting QB and Heisman trophy favorite Trevor Lawrence. Lawrence received his positive test result on Thursday, immediately ruling him out for Saturday's game against unranked Boston College, which the Tigers won 34–28. A little too close for comfort.
Under the ACC's vague COVID-19 guidelines, there was still a chance Lawrence would return in time for the Tigers' marquee matchup against No. 4 Notre Dame on November 7th. But Clemson head coach Dabo Swinney announced on Saturday that Lawrence would be unavailable against the Fighting Irish. Sad but fair.
Who will be QB instead?: On Saturday, Clemson turned to freshman D.J. Uiagalelei (pronounced OOH-EE-AHN-GUH-LAY-LAY). Despite his limited play, Uiagalelei looked like a veteran, completing 30 of his 41 passes and earning 342 yards and two TDs. Not bad for a debut!
The Tigers will need Uiagalelei to keep it up vs. Notre Dame this weekend. This game was already expected to be a close one, so without their star QB, undefeated Clemson could suffer their first loss of the season and a blow to their playoff chances.
Womp womp. And you mentioned a fight?: Yes, and it was a doozy. Following a late hit to Florida QB Kyle Trask, a handful of Gators came to his defense, resulting in a bench-clearing brawl. Even the coaches were involved, having a v. heated exchange before being separated by the referees. What a hot mess.
In the chaos, the refs somehow chose three players to eject and issued unsportsmanlike conduct penalties to all players. Yesterday, both schools issued a joint statement condemning the fight. Clean it up, boys!