NFL continues reshuffling schedule due to more positive COVID-19 tests.
October 12, 2020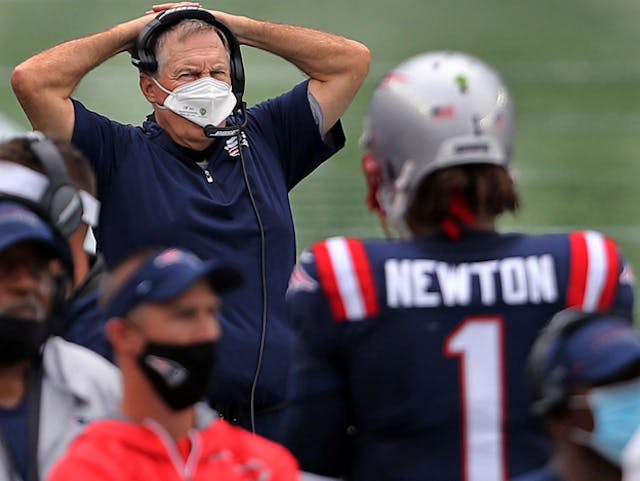 Source: Jim Davis/Boston Globe
The GIST: With more players and personnel testing positive for COVID-19, the NFL postponed yet another game, requiring some serious of the schedule. Things are getting messy.
Which game was postponed?: After a fourth player tested positive, the New England Patriots' Week 5 game vs. the Denver Broncos (which had already been rescheduled once) was to next Sunday. The Patriots were forced to shut down their facility for the third time in 10 days. Oy vey.
How long can the NFL keep this up?: TBH, we're surprised it's lasted this long. Players are beginning to with the league's (mis)handling of positive cases. For example, rather than implementing a bubble or a comprehensive response and appropriate isolation period, the NFL instead announced for coaches who fail to wear masks when approaching officials.
Of course, we're all for keeping the referees safe. But, newsflash NFL, those same refs are still at risk when they officiate a game between players potentially exposed to COVID-19. Time for a .
Ugh. Well, what happened on the field Sunday?: The on-field action was just as chaotic as these scheduling changes. The highlight: the Las Vegas Raiders handing the Kansas City Chiefs their first loss in 336 (!!!) days, snapping their franchise record 13-game win streak.
The Raiders solidified their 40–24 victory in style with this to the end zone by running back (RB) Josh Jacobs. Check out more highlights from Week 5 .