October 25, 2021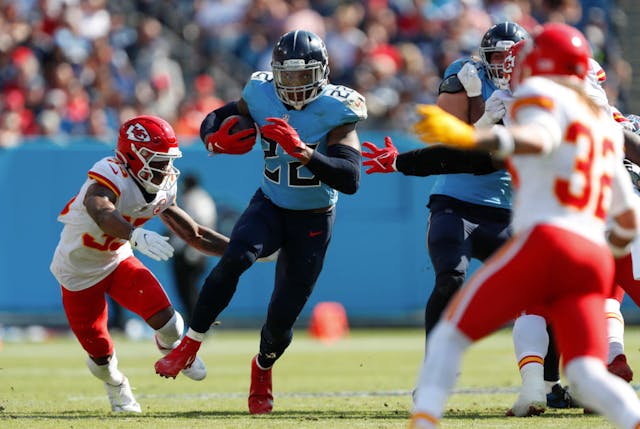 Source: Wesley Hitt/Getty Images
Sunday's highlight: Tennessee Titans running back (RB) Derrick Henry threw (yes, threw) (TD) to tight end (TE) MyCole Pruitt in the Titans' 27–3 win over the (surprisingly 3-4) Kansas City Chiefs. They don't call him King Henry for nothing.
Injury report: In other Kansas City news, quarterback (QB) Patrick Mahomes exited the game in the fourth quarter after a scary . Elsewhere, NY Jets QB Zach Wilson left with a knee injury in the second quarter of his squad's lopsided loss to the New England Patriots.
Achievement alert: Another week, another milestone for QB Tom Brady. Brady became the first NFLer to ever throw 600 TDs with in his Tampa Bay Buccaneers' 38–3 rout of the Chicago Bears. The GOAT keeps GOATing.
Just keep winning: The Arizona Cardinals remain undefeated thanks to yesterday's 31–5 win over the Houston Texans, and Cards TE Zach Ertz already has his with his new squad after being traded from the Philadelphia Eagles earlier this month.
Tonight: There's more Week 7 fun where that came from. Wide receiver DK Metcalf and the Seattle Seahawks host RB Alvin Kamara and the New Orleans Saints tonight at 8:15 p.m. ET in a key Monday Night Football matchup.