The GIST: The Celtics players aren't messing around. Presenting a unified front, the players released an op-ed in the Boston Globe yesterday asking Governor Baker to reconsider his stance on the police accountability bill.
December 18, 2020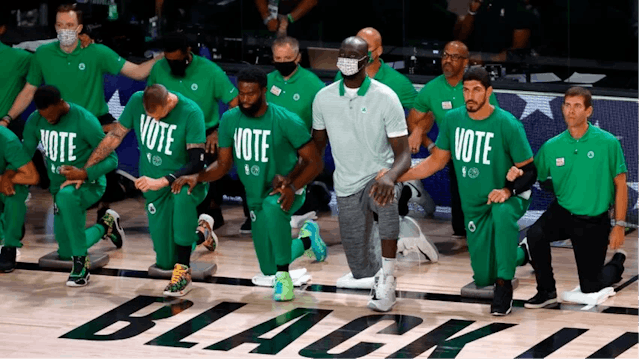 SOURCE: KEVIN C. COX/GETTY IMAGES
🏀Bigger than ball: The byline read "Boston Celtics Players," and 17 athletes' names were listed at the bottom of the Boston Globe piece, stating, "[W]e were disappointed to see that Governor Charlie Baker, in his amendments to the police reform legislation, removed the bill's proposed regulations of government use of facial recognition technology."
The players contended that without oversight, the technology's flaws would be exacerbated and lead to further wrongful arrests, particularly of Black men. They cited a test conducted last year, where the headshots of 27 Boston professional athletes were falsely matched to a mugshot in the database.
Leading the way: The Celtics are no strangers to leading the fight against racial injustice. Jaylen Brown, who was recently named a Bostonian of the Year, drove from Boston to organize a protest in his hometown of Atlanta shortly after the murder of George Floyd.
And if the Milwaukee Bucks hadn't initiated the wildcat strikes that spread across North American sports leagues, the Celtics reportedly would have taken the same course of action. We're proud.
🏈One more thing: Moving on to the Patriots. For the first time since 2008, the team won't be AFC East champions and will likely miss the playoffs. Sigh. Still, we hope the Pats (and wide receiver Julian Edelman, who returned to practice yesterday) finish the season strong, starting with the Miami Dolphins on Sunday at 1 p.m. ET.