With more positive COVID-19 tests throughout the league, all eyes are on the NFL's response to the situation.
October 08, 2020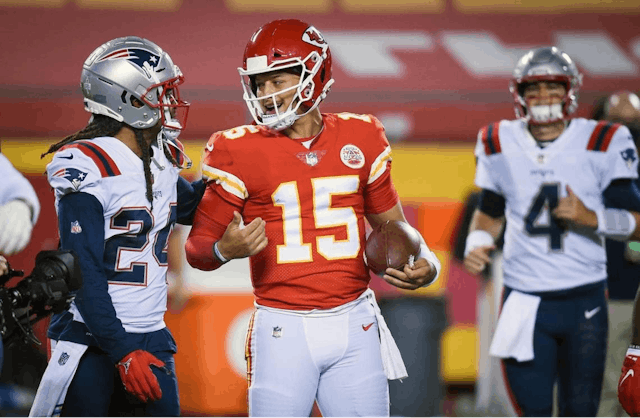 SOURCE: TAMMY LJUNGBLAD/THE KANSAS CITY STAR
The GIST: Week 5 kicks off in the NFL tonight, but the spotlight remains on the league's response — or lack thereof — to COVID-19. Another player on the New England Patriots tested positive and the results of the league's investigation into the Tennessee Titans are truly facepalm worthy. It's well past time for the NFL to get their sh!t together.
Who tested positive?: Patriots cornerback and reigning NFL Defensive Player of the Year Stephon Gilmore, who played in Monday night's game against the Kansas City Chiefs. Not good. Luckily, Gilmore tweeted that he's currently asymptomatic.
Adding to the scary news, a photo surfaced of NFL superstar and Kansas City QB Patrick Mahomes having a way too close for comfort convo with Gilmore following Monday's game. Just like we did at our middle school dances, let's leave some space, please!
What about the Titans?: The Titans were the first NFL team to experience a COVID-19 outbreak, with their Week 4 game against the Pittsburgh Steelers rescheduled to Week 7. But two additional Titans players tested positive on Wednesday, meaning their game this Sunday vs. the Buffalo Bills is also in jeopardy.
To make matters worse, the NFL's investigation into the Titans outbreak revealed that multiple players broke the league's COVID-19 protocols and held a workout together after their facility was shut down. There are truly no words.
Ridiculous! So what's the NFL doing about this?: TBH, not enough. Despite Gilmore's positive test, the Patriots are still scheduled to host the Denver Broncos on Sunday. Otherwise, the NFL has threatened stricter penalties for violating COVID-19 protocols, like forfeiting a game or the loss of draft picks. That said, we're worried commissioner Roger Goodell is focused on the wrong issue.
Penalizing individual noncompliance is a start, but, in lieu of a bubble, the NFL needs guidelines that truly prioritize player safety and consider COVID-19's 14-day incubation period. Until then, we'll be crossing all our fingers and toes that they can overcome these early issues.