The GIST: With the unseasonably warm weather yesterday, it's weird to think that college ice hockey is underway with several of our Boston-area teams holding their season openers. Drop the puck!
December 14, 2020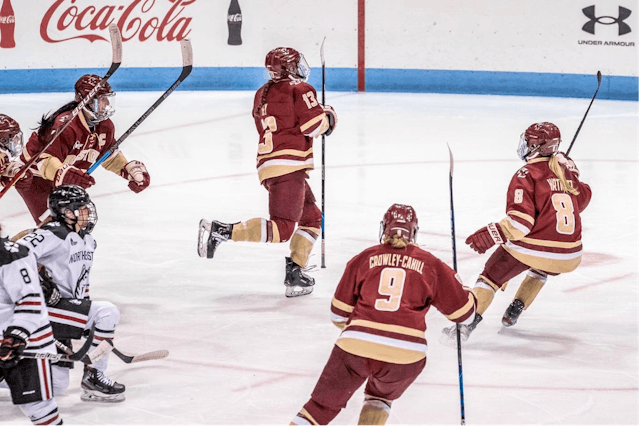 SOURCE: BC WOMEN'S HOCKEY/TWITTER
🏒Women's: After several COVID-19 related delays, the No. 2 Northeastern Huskies rang in the season by splitting the weekend slate with the No. 9 BC Eagles. The Huskies downed the Eagles 4–1 on Friday, but the Eagles bounced back yesterday with a 2–1 victory. BC's Jillian Fey secured the huge dub for her squad with this heads-up goal.
No. 10 BU closed out 2020 on a sour note, falling to UConn 4–1 Friday night. Hopefully the new year brings new beginnings for the Terriers.
Men's: The Northeastern men started out their season with a bang, sweeping Merrimack over the weekend. Defenseman Jordan Harris and center Steven Agriogianis both amassed five points during the Huskies' two high-scoring affairs, including two goals each on Friday.
The No. 8 UMass Lowell men didn't fare so well in their season opener, falling to Providence 4–2 yesterday. The River Hawks struck first, but ultimately gave up back-to-back power-play goals to lead to their defeat.
No. 2 BC was stunned by UConn Saturday night, falling 3–1 and snapping a 14-game unbeaten streak dating back to last season. But the Eagles were without four key players due to World Juniors commitments, so they should be just fine moving forward.
🏀Celtics: Switching to the hardwood, if you've been missing our boys in green, the Celtics return to the court in preseason action tomorrow at 7:30 p.m. ET against the Philadelphia 76ers.