The GIST: With the Clippers and Lakers tipping off the NBA season and a former Laker taking on a new role with the Sparks, basketball's on the top of our minds.
December 25, 2020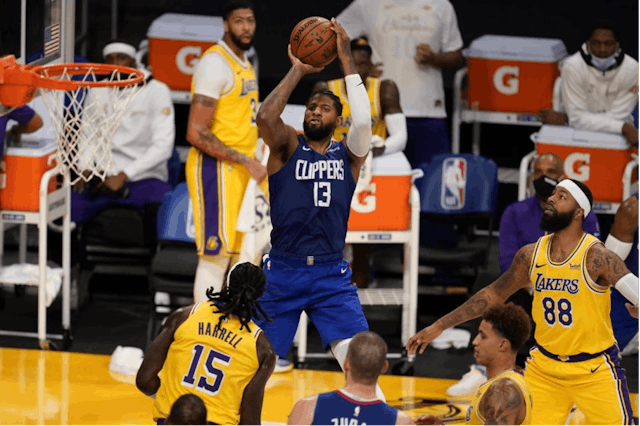 SOURCE: AP/MARCIO JOSE SANCHEZ
🏀NBA: The Lakers may have collected their rings on opening night, but the Clippers collected the win. The Clips came out firing and never relinquished the lead with Paul George, determined to put his playoff woes behind him, leading the Clips with 33 points.
LeBron James rolled his ankle in the contest, but wine will heal it in no time. And the Lakers aren't too fussed about the loss: they lost last year's season opener as well, and look how that turned out.

Both squads play on Christmas Day, with the Lakers up first against the Dallas Mavericks at 8 p.m. ET/5 p.m. PT followed by the Clips delivering the nightcap against the Denver Nuggets at 10:30 p.m. PT/7:30 p.m. PT.
WNBA: Former Laker Derek Fisher (of 0.4 second shot fame) will add Sparks general manager to his title in addition to head coach. Fisher's biggest priority is to re-sign Candace Parker, despite butting heads with the superstar in the past. Candace, please stay in LA.
🏈NFL: On the gridiron, the Rams' Sunday showdown against the Seattle Seahawks is a must-win if the Rams want to keep their NFC West title hopes alive. Plus, it'd be nice to put last week's embarrassing loss behind them.
As for the Chargers, QB Justin Herbert is poised to break the rookie record for passing touchdowns against the Denver Broncos. The kid's alright.