The GIST: Stop us if you've heard this one before, but more college football and basketball games have been canceled due to COVID-19...and it's having a major impact on the playoff picture.
December 10, 2020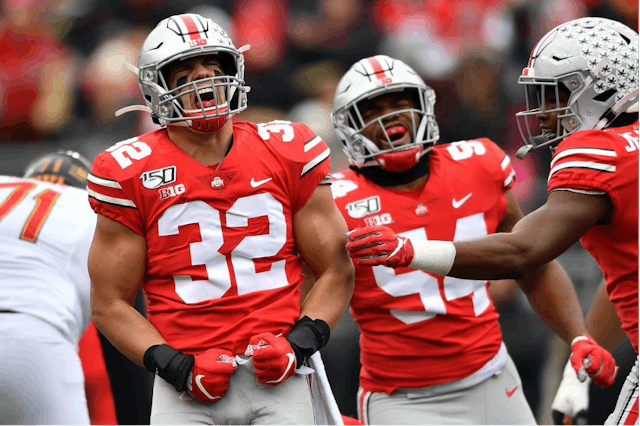 SOURCE: JAMIE SABAU/GETTY IMAGES
The major football cancellation: For the first time since 1917, Big Ten rivals No. 4 Ohio State and Michigan won't compete in "The Game." With the cancellation, the playoff contender Buckeyes initially seemed likely to miss the Big Ten championship, as their 5-0 record was a game shy of the original six-game requirement to make the conference finals.
Original is the key word there. Yesterday, conference administrators voted to eliminate the requirement, allowing Ohio State to advance to the Big Ten championship, where they'll face Northwestern. It's 2020, we don't make the rules.
The bigger picture: It was a no-brainer for the Big Ten to have Ohio State, the conference's only team in the College Football Playoff rankings top 10, compete in the championship. But the Buckeyes' five-game slate creates a dilemma for the overall playoff picture.
For example, the selection committee will now be forced to compare the Buckeyes' five wins to Texas A&M's impressive 7-1 record. As if that wasn't enough, each team also played extremely varied competition.
We'll have more answers soon, with the College Football Playoff Selection Day set for December 20th. Here's an early look at the committee's next meeting.
Basketball: Meanwhile, men's basketball continues to struggle with a growing list of COVID-19 game cancellations. On the bright side, No. 3 UConn women's basketball will finally begin their season this Saturday, squaring off against UMass Lowell at 1 p.m. ET. We've been waiting for this one...turn it up!