The first-ever PWHPA All-Star event
December 12, 2022
Today may mark the first-ever PWHPA All-Star event, but it's far from the first time women's hockey players have showcased their skills on the big stage.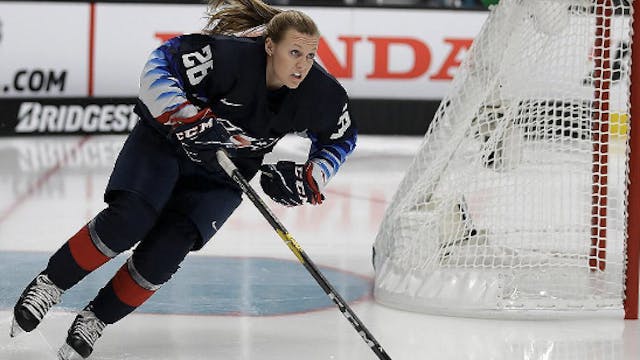 SOURCE: TORONTO SUN/TWITTER
Today may mark the first-ever PWHPA All-Star event, but it's far from the first time women's hockey players have showcased their skills on the big stage. First thing's first though — let's take a trip down memory lane to learn how we got here.
The Professional Women's Hockey Players' Association (PWHPA) was formed in 2019 after the Canadian Women's Hockey League (CWHL) folded amid financial struggles. That left North America's top players (hi, Marie-Philip Poulin, Kendall Coyne Schofield and Hilary Knight) with the then–National Women's Hockey League (now Premier Hockey Federation) as seemingly their only option.
But not so fast — following the CWHL's demise, the game's best announced that they wouldn't play in any league until a sustainable cross-border league (ideally in partnership with the NHL) was formed. And, thus, the PWHPA was born.
Fast-forward to early 2022, when rumors flew that the PWHPA was finally forming its own league. Those talks have since cooled while the association focuses on their Secret Dream Gap Tour and today's All-Star festivities.
Speaking of, today's events build on a history of talent showcases for the women's game. The CWHL hosted four All-Star games from 2014 to 2019 (with some minor facility support from the NHL), all of which aired nationally in Canada.
And the NHL's partnership continued to help fuel public interest in women's hockey when they invited North America's top female talent to take part in their 2019 All-Star competition.
That's when the aforementioned American powerhouse, Kendall Coyne Schofield, famously shocked North America (well, everyone who hadn't watched her before) when she dazzled in the fastest skater competition.
And in 2020, it was yet again the NHL All-Star game that gave women a platform outside of national team events. In their show-stealing 20-minute, 3-on-3 competition, the best of Canada and the U.S. once again demonstrated the importance of representation.
After three years of Dream Gap Tour showcases, the PWHPA is reclaiming their own All-Star space today at the Canadian Tire Centre (home of the NHL's Ottawa Senators). Let the games begin.
⚙️ How it works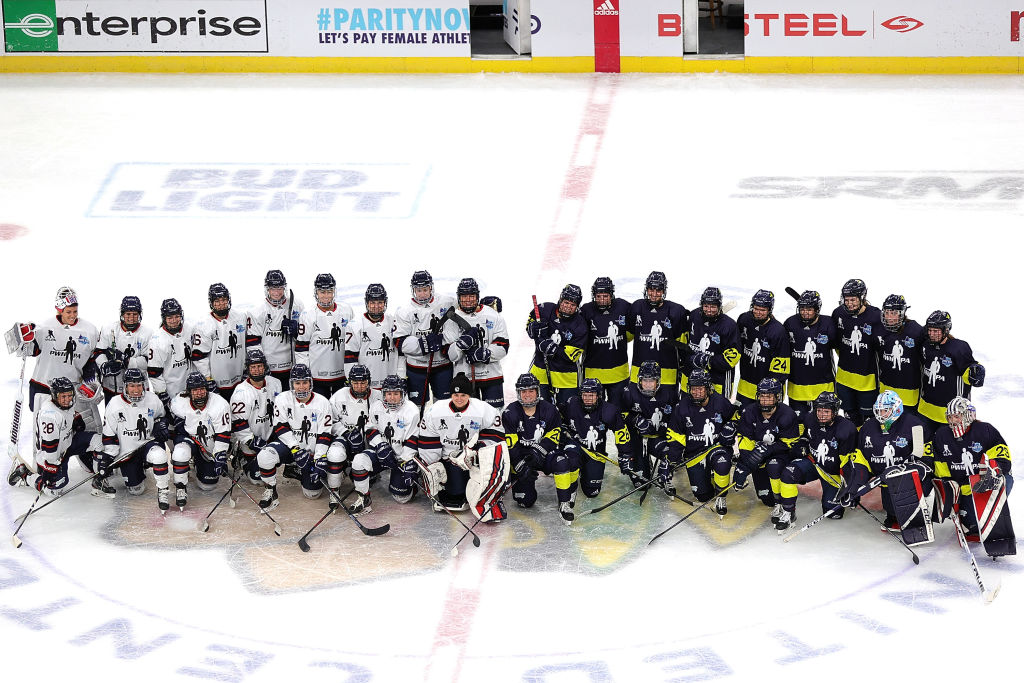 Four sponsored squads (Teams Harvey's, Adidas, Scotiabank and Sonnet) compete throughout the PWHPA's season of Dream Gap Tour showcases, earning points to determine the eventual year-end winner.
Using fan votes from those matchups, one player from each of those teams (Marie-Philip Poulin, Sarah Nurse, Megan Keller and Hilary Knight, respectively) was crowned captain for today's All-Star 3-on-3 competition.
From there, the PWHPA's remaining 96 members were whittled down to 40 through a player, coach and team staff vote. From that field, each captain drafted 10 teammates to join them in today's tourney.
While the winning squad may only gain bragging rights, the real prize is showcasing elite women's hockey talent across the nation. Time to close that dream gap.
Before the game, though, a dynamic skills competition will take center ice. Similar to the squad selection, players (who may or may not be on an All-Star team) were nominated and chosen by their PWHPA peers to compete in one of four challenges: fastest skater, accuracy shooting, skills challenge and save streak.
First, seven speedsters will hit the ice in the fastest skater competition, where each competitor completes one timed lap around the rink in the direction of their choice. The fastest lap wins, and any ties will be determined with a 1-on-1 showdown lap. Simple.
Next, star snipers will go head-to-head in the time-sensitive shooting accuracy competition. The selected athletes will aim to hit four separate targets in the corners of the net in the shortest amount of time.
Then, the broadly-named skills challenge will feature PWHPA stars completing key hockey drills like stickhandling, puck control and passing accuracy.
Finally, the competition closes with a dramatic goaltender showdown, as top tendies Nichole Hensley, Ann-Renée Desbiens, Emerance Maschmeyer and Maddie Rooney attempt to shut down more consecutive breakaway attempts than the rest.
🏒 Skills competition contenders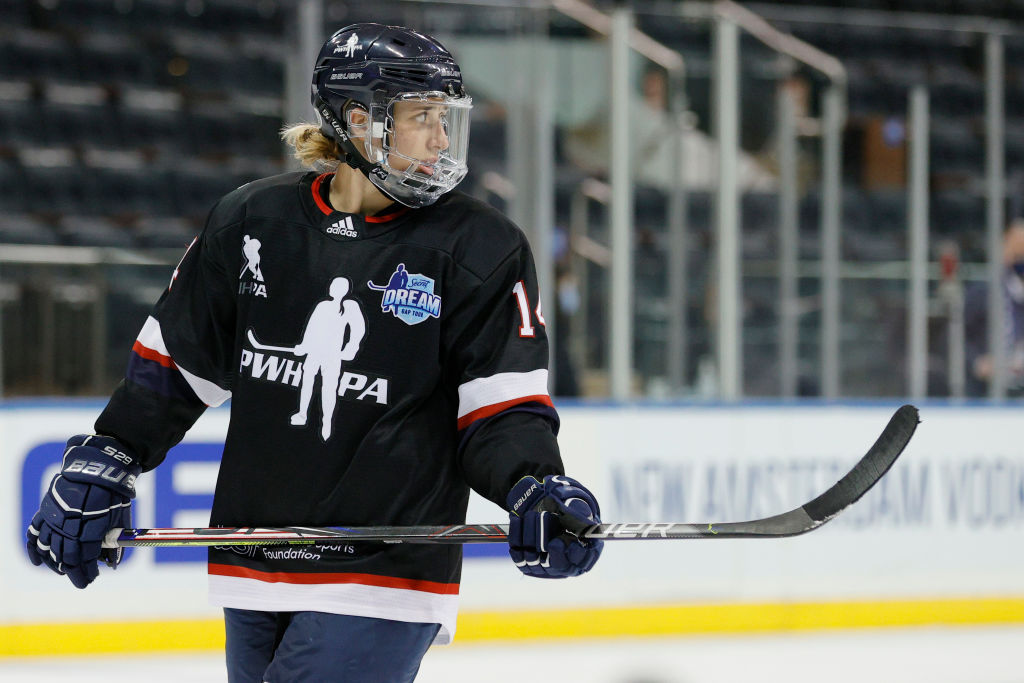 Fastest skater: As mentioned, Team Adidas' Coyne Schofield made her mark as a super-speedy knife-shoe wearer several years back, but does she still have what it takes? Canada's Renata Fast will be Coyne Schofield's top competition. How could she not be with a name like that?
Accuracy shooting: National team legends Hilary Knight (USA) and Sarah Nurse (Canada) are definitely known for their scoring ability, but let's not sleep on up-and-coming American Abby Roque, one of the PWHPA's top five scorers (as of writing) this season. With a star-studded playing field, anything could happen.
Skills challenge: While Canadian national team forward Jamie Lee Rattray has elite experience and rising star Jessie Eldrige has impeccable technical finesse, we'd be remiss to not bet on women's hockey GOAT Marie-Philip Poulin in this competition. She's just that good.
Save streak: All four tendies are solid between the pipes, but Team Harvey's has Canadian national goalie Ann-Renée Desbiens, who's consistently been a brick wall in high-pressure situations. An honorable mention does go out to Nicole Hensley, who's shone bright so far this season.
🥅 3-on-3 event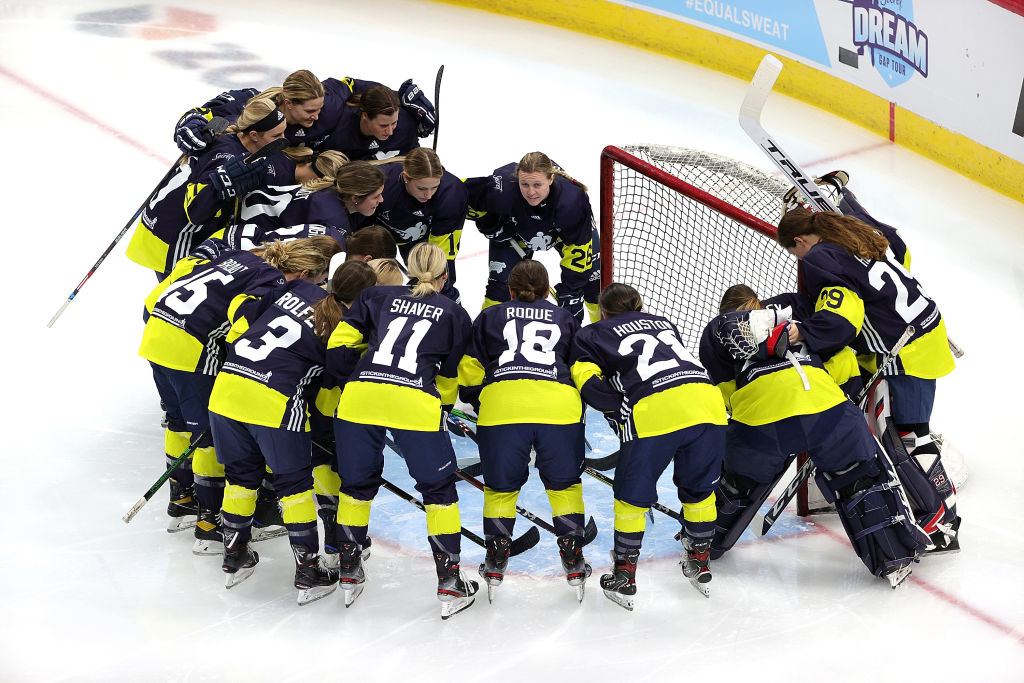 Now, on to the main event. Each team will face off for six 10-minute round-robin games before the top two squads compete for the championship. Let's meet 'em.
Team Marie-Philip Poulin: With Captain Clutch leading the way, it's hard to imagine this lineup being anything but dominant. After all, the leading PWHPA goal scorer (as of writing) may not start sh!t, but she sure can end it, typically with a game-winner. Should be easy with the backing of fellow Team Harvey's playmaker Sophia Shaver and the formidable Desbiens.
Team Hilary Knight: A hard-working American hero, Hilary Knight is synonymous with Team USA's on-ice success. Joined by a mix of experienced and rising talent like Rattray and Roque and backed by fellow red, white and blue tendie Hensley, this squad is, put simply, stacked.
Team Sarah Nurse: On her own, Nursey is a consistent offensive threat, holding the records for most points and assists at a single Olympic tournament, but with the team she's selected, Team Nurse will leave opponents quivering before the puck even drops.
With fellow Adidas teammate Coyne Schofield, Canadian national teammate Blayre Turnbull and elite sniper Jessie Eldridge balancing out the offense, this squad is slick and energetic. No time to blink.
Team Megan Keller: Here comes the wild card. Two-time Olympian Megan Keller's squad gives underdog energy, but with serial American goalscorer Alex Carpenter, decorated Canadian forward Mélodie Daoust and top-five PWHPA scoring leader Rebecca Johnston (as of writing), they've got the dogged determination to make it work.
The biggest question mark? Goaltender Maddie Rooney. The Team Adidas goalie holds one of the league's highest goals-against average, but, with the team's juggernaut offense, it may be a moot point.
📺 How to watch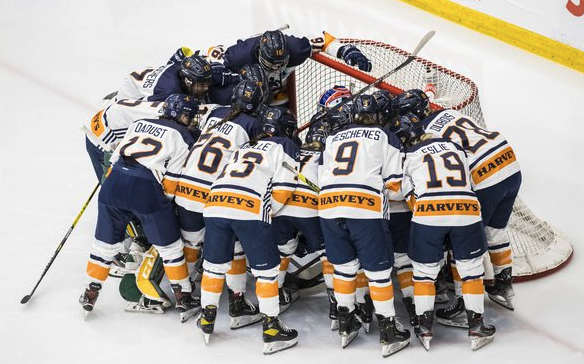 In an exciting (and deserved) glow-up for the women's best game you can name, both events will be aired globally and helmed by a kickass all-women broadcast team featuring Canadian hockey great Tessa Bonhomme and friend of The GIST Jayna Hefford.
The skills competition will hit the ice first at 11 a.m. ET before the puck drops at 12:30 p.m. ET for the 3-on-3 tournament. Day? Planned.
Canadian viewers can tune in on TSN, while Americans can catch all the action on ESPN+ or TSN's global online stream.