Jets take loss to Chiefs, Giants are set for Monday Night Football Matchup with Tampa Bay Bucs.
November 02, 2020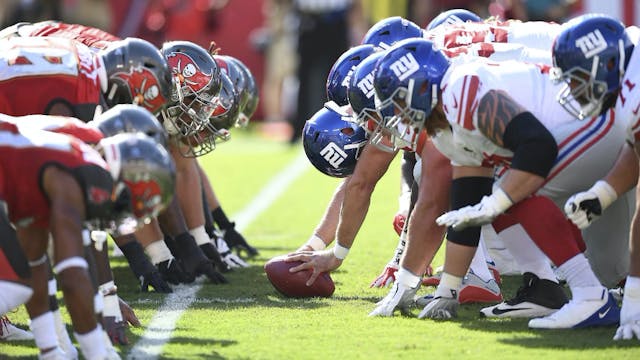 SOURCE: EVAN PINKUS/AP PHOTO
The GIST: Who doesn't love back-to-back days of New York football? As we look forward to the Giants hosting the Tampa Bay Buccaneers tonight (despite Giants left guard Will Hernandez testing positive for COVID-19 earlier this week), we're trying to forget the Jets' 35–9 loss to the Kansas City Chiefs yesterday.
It's on: This matchup is nothing new for the Giants, who have beaten the Bucs seven of the last eight times they've played, most recently featuring quarterback Daniel Jones' stand-out debut last year. But this year will be different, with legendary QB Tom Brady spearheading an offense which has looked extremely dangerous lately.
Not over it: On defense, the Bucs have weapons on all sides, including former Giants linebacker Jason Pierre-Paul, who leads Tampa Bay with 5.5 sacks. Pierre-Paul was in New York for eight seasons before the defensive all-star was traded to the Bucs in a generally regarded bad move in 2018.
The trade was made for better draft picks in an effort to aid the Giants' rebuild, but with the season Pierre-Paul is having, we're sure the Giants still wish he was on their side of the line of scrimmage tonight. Needless to say, Pierre-Paul will want to use tonight's game to make a point.
While the Bucs definitely aren't perfect, the Giants will need to play a pretty perfect game to capture their second win. Hopefully with the retro-fits to inspire him, Jones can channel his former self and rise above the struggles the Giants have faced all season.