Fans will be allowed inside Lincoln Financial Field for the first time this season, and all eyes will be on Eagles' new wide receiver Travis Fulgham
October 15, 2020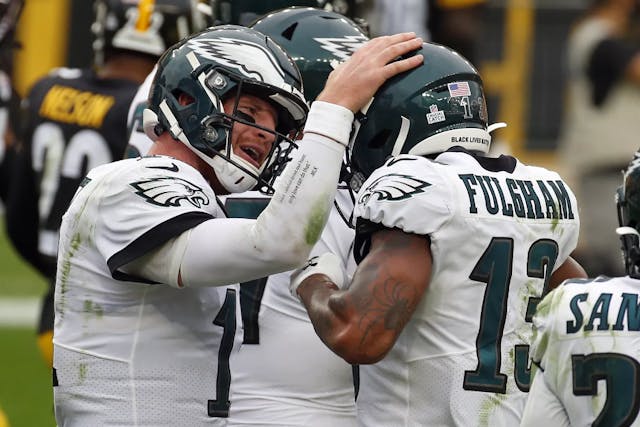 SOURCE: JUSTIN K. ALLER/GETTY IMAGES
The GIST: With fans allowed in Lincoln Financial Field for the first time this season (not, not nervous), it'll be a big week for the Eagles — and new stand-out wide receiver (WR) Travis Fulgham — when they host the Baltimore Ravens on Sunday at 1 p.m. ET.
Who's this new WR?: All anyone's been talking about since the San Francisco 49ers game is WR Travis Fulgham. After his huge catch in the Eagles' first (and only) win this season, Fulgham showed out again last week with 10 catches and 150 yards against the Pittsburgh Steelers.
With these impressive stats, the WR caught our attention as he stepped up big-time when the Birds desperately needed a spark.
Where'd he come from?: Fulgham has always been a diamond in the rough. Out of high school, he had no scholarship offers, so he decided to walk on at Old Dominion. After a stand-out senior season, Fulgham was drafted in the sixth round by the Detroit Lions in 2019, just to be cut after one year on the practice squad.
In August, the Green Bay Packers picked him up briefly before the Eagles snagged him during training camp. His story shows he's nothing if not resilient, which is so Philly and just what the Birds need right now.
Even quarterback Carson Wentz believes Fulgham is the real deal, and their connection on the field has also helped Wentz come out of his slump.
What else?: Outside of watching Fulgham, keep an eye on how the fans' return to the Linc impacts the Birds. The limited seats will first be sold to season ticket holders, and any extras will be offered to the general public. Wear a mask and stay safe, Philly!