Recap: Week 8 in the NFL
November 02, 2020
A look at the NFL, halfway through the season.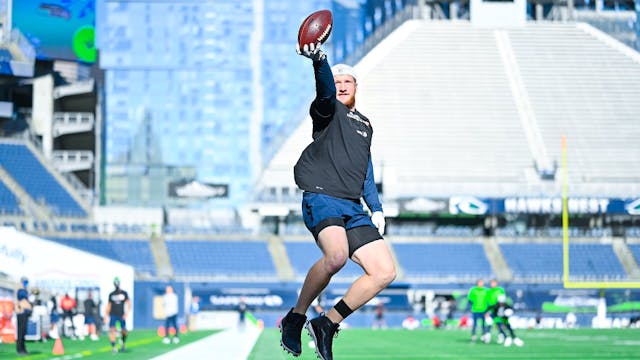 SOURCE: SEATTLE SEAHAWKS/TWITTER
The GIST: The NFL's Week 8 wraps up today, and in a 17-week, 16-game season, that puts us right around the midpoint. Guess it's time for a midterm report card.
Who's passing?: As the top American Football Conference (AFC) team and the only undefeated team in the league, the Pittsburgh Steelers get a big A+ from us. If the postseason started today, the Steelers would have a first round bye, which is extra surprising seeing as they haven't made the playoffs in two years.
Outside of signing Antonio Brown, the National Football Conference's (NFC) Tampa Bay Buccaneers deserve straight As. They haven't made the postseason since 2007, but are now one of the best teams in the league, largely thanks to new quarterback (QB) Tom Brady. We'll bet all of our Halloween candy they'll dominate the one-win New York Giants tonight at 8:15 p.m. ET.
Meanwhile, the NFC West is heading for the honor roll. The division that includes the 6-1 Seattle Seahawks and last year's Super Bowl runners-up, the San Francisco 49ers, is the only one in the league that doesn't have a team with a losing record, making it extra competitive. B+ for the division.
And who's failing?: Don't let head coach Bill Belichick hear, but the New England Patriots are...bad. With a tight 24–21 loss to the Buffalo Bills yesterday, the former dynasty is on a four-game losing skid for the first time since 2002 (the same year The Bachelor debuted!). No letter grade, just...needs improvement.
The NFC East continues their reign as the worst division in football. None of the division's four teams have a winning record, with most of their wins coming against each other. We're giving the teams and the division an F.
What happened yesterday?: So many great plays. Here are a few of our favorites:
The Steelers may be doing so well because of their new secret weapon: Canadian rookie wide receiver Chase Claypool, who scored this game-winning touchdown (TD) to beat the Ravens 28–24. Who knew Canadians could run that fast?
Miami Dolphins rookie QB Tua Tagovailoa (pronounced TWO-A TUNG-O-VAI-LOA) made his first NFL start, threw his first NFL TD pass, won his first NFL game and showed up looking like this. Into it.
The Chicago Bears lost to the New Orleans Saints (probably karma for this BS), but they won the TD highlight reel with this helmet catch from Allen Robinson. Now that's using your head!