March 02, 2020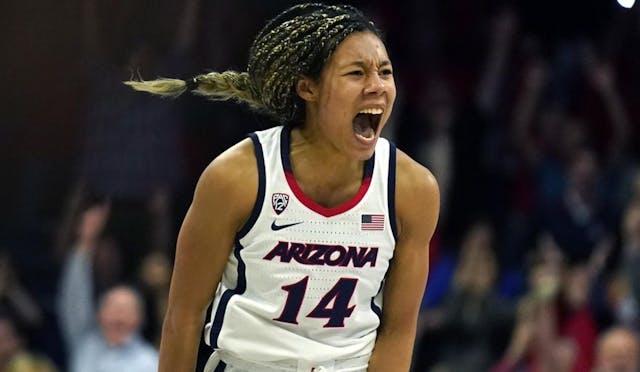 The GIST: While March Madness isn't officially here yet, it is March and we saw some serious madness in college sports this weekend, especially with both men's and women's NCAA basketball regular seasons coming to a close.
Women's basketball: It was a relatively quiet weekend in women's college hoops. Most of the teams we thought would win, won — a far cry from last weekend where we saw a lot of Top 25 teams fall. The most exciting game of the weekend was definitely No. 13 Arizona and No. 4 Stanford. In the dying seconds of overtime, junior Aari McDonald finished with a layup to give Arizona their first win over a top-five ranked team in program history!
In some upset news, No. 18 Iowa was defeated in overtime 78–74 by unranked Rutgers, and unranked Notre Dame — who have struggled this year after all five of their starters from last season graduated — beat No. 19 Florida State 70–67.
Men's basketball: It's been a rollercoaster of a year in men's college basketball and this weekend was no different. Half the teams in the Top 25 lost, so expect some serious shuffling in the rankings this week. The biggest upset of the weekend came when No. 2 Baylor lost 75–72 to unranked Texas Christian University (TCU), marking the Bears' second loss in three games after winning 24 of their first 25. *Drake's "I'm Upset" plays in the background*
In other upset news, No. 7 Duke has lost two in a row after a 52–50 loss to unranked Virginia yesterday, and No. 6 Florida State lost a heartbreaker 70–69 to unranked Clemson on a last second layup. With seeding for the big dance right around the corner, timing (of wins and losses) is everything!
Women's gymnastics: With a 197.800–196.500 win over No. 10 Georgia, the No. 2 Florida Gators completed their first undefeated SEC season in program history! What makes it even sweeter? Back in 2007, the Gators' hopes for an undefeated season were spoiled by, you guessed it, the Georgia GymDogs. Sweet, sweet revenge.
Women's softball: The No. 3 Texas Longhorns had themselves a weekend, knocking off the top two teams in the country in back-to-back games for the first time in Longhorn softball herstory. The Longhorns beat No. 1 UCLA 6–4 in extra innings before getting the win against No. 2 Washington 8–6. Sh!t, sisters!