No. 12 Oregon State Beavers beat No. 8 Loyola Ramblers 65–58 in the Sweet 16 on Saturday.
March 29, 2021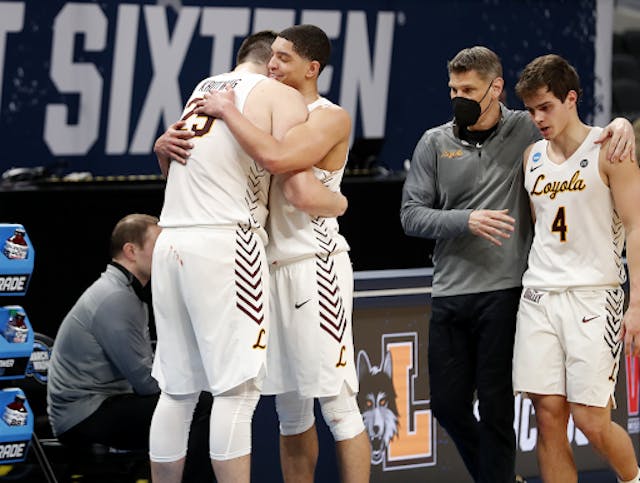 Source: Loyola MBB/Twitter.com
🎓College: In the battle of Cinderella stories, the No. 12 Oregon State Beavers walked away with the glass slipper, beating the No. 8 Loyola Ramblers in the Sweet 16 on Saturday. The Ramblers came out hot, limiting the Beavs' offense with their best-in-class defense early on. But while Loyola forced a total of 10 turnovers on the game, their offense wasn't up to snuff.
And when the Beavs stretched their lead to 11 points in the second half, Loyola just couldn't hit their shots. The Ramblers only made 33% of their attempts (vs. a 50% season average) and just five of 23 three-pointers attempted. Yikes.
Senior captain Cameron Krutwig led the Ramblers with just 14 points, with guards Braden Norris and Lucas Williamson adding 10 each. While fans loved cheering on the Ramblers (and Sister Jean) once again, all good things must come to an end.
🏀NBA: The 19-25 Bulls have lost five of their last six games, including their loss to the San Antonio Spurs on Saturday. The game also featured the Chicagoland debut of All-Star Nikola Vučević (pronounced NI-KOH-LA VO-CHEH-VICH), who was from the Orlando Magic.
🏒NHL: The Blackhawks lost back-to-back games to the Nashville Predators this weekend, including last night's 3–2 loss. The 16-14 'Hawks will be back on the ice to face the Carolina Hurricanes on Tuesday. Puck drops at 7:30 p.m. ET/6:30 p.m. CT.