The GIST: Winter sports are officially under way and we still have fall champions to crown. What a time to be alive.
November 10, 2021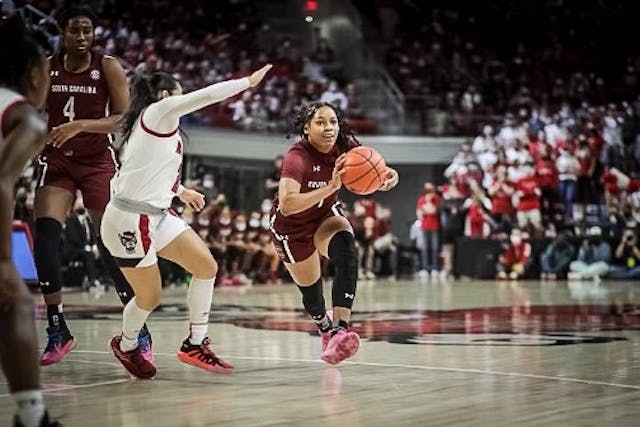 SOURCE: GAMECOCK WBB/TWITTER
🏀Basketball: Yesterday marked the start of the college basketball season (check out yesterday's special edition for a full preview) and opening day did not disappoint, with two pivotal ranked matchups.
On the women's side, Zia Cooke poured in 17 points and Aliyah Boston had five blocks to lift No. 1 South Carolina to a 66–57 win over No. 5 NC State.
And for the men, No. 9 Duke bested No. 10 Kentucky 79–71, starting Duke head coach Mike "Coach K" Krzyzewski's (pronounced shuh-SHEF-skee) farewell tour with a win.
🏑Field hockey: The 18-team single-elimination National Championship tourney begins today with two Opening Round games. The winner of the 1 p.m. ET tilt between Delaware and Fairfield will face No. 1 Rutgers on Friday, then Miami hosts Maine at 2 p.m. ET, with a date with No. 3 Michigan on the line.
⚽️Soccer: ICYMI: the 64-team women's College Cup field was released on Monday, and Virginia, Rutgers, Duke and last season's runner-up Florida State snagged the No. 1 seeds. Kick back and eat some gouda — first round action begins Friday.