The GIST: The Stars had to wait to hit the ice, but they didn't seem hindered by the delay, earning two wins in their first two games. Meanwhile, the Mavs are patiently waiting for some of their stars to return to play.
January 25, 2021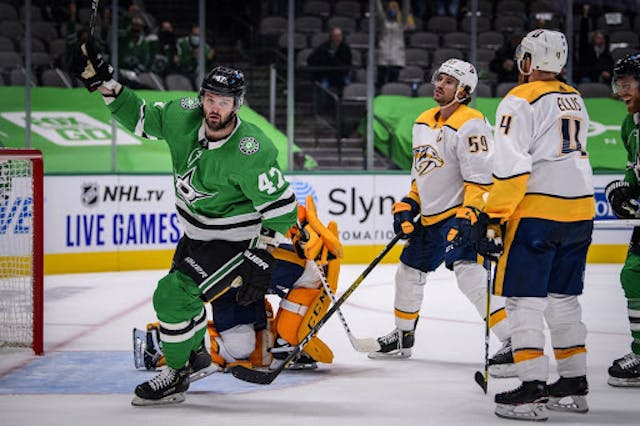 Source: Jerome Miron/USA TODAY Sports
🏒Stars: The Stars clearly had some pent-up energy, exploding for seven (!!!) goals in their season-opening win over the Nashville Predators on Friday. Goalie Anton Khudobin made 34 saves in the lopsided shutout victory. And the Stars didn't slow down yesterday, posting another three goals to down the Preds 3–2.
Next up, the first of two consecutive games against the struggling Detroit Red Wings. Puck drop is tomorrow at 8:30 p.m. ET/7:30 p.m. CT.
🏀Mavericks: Luka Doncic clearly has his (what can't he do?!), but the Mavs are still struggling to find their footing, earning just two wins in their last six games. While there's no clear timeline for the return of the four players still in COVID-19 protocols, Josh Richardson will to return to the hardwood.