Eagle to face Steelers in Week 5 of NFL action; Flyers select Tyson Foerster in NHL draft.
October 08, 2020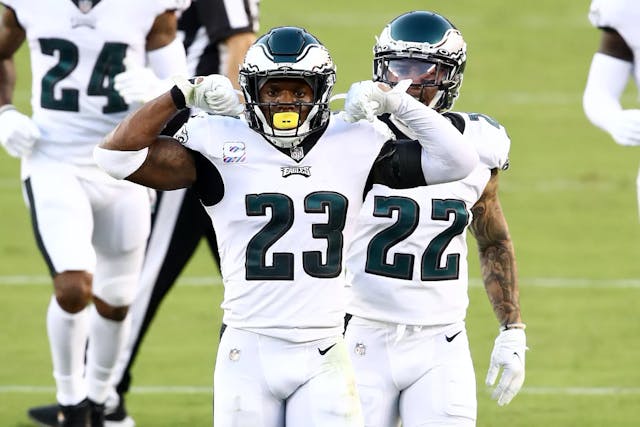 SOURCE: EZRA SHAW/GETTY IMAGES
The GIST: The Eagles will take on a solid Pittsburgh Steelers team in Week 5, while the Flyers made moves this week in the NHL draft.
Do it again: Even though we won't be able to bring the green and white to Heinz Field this year, this Eagles vs. Steelers matchup is still going to be rowdy. The 3-0 Steelers will be coming off a forced bye week after a COVID-19 outbreak in the Tennessee Titans organization canceled their Week 4 matchup, so they'll either be dangerously well-rested or a little sluggish. Let's hope for the latter.
Either way, this game's a long shot. The Steelers boast one of the best defenses in the league, and with the Eagles struggling offensively, it could be a disaster. We'll find out when the teams kickoff at 1 p.m. ET on Sunday.
Didn't see that one coming: The Flyers surprised everyone when they drafted forward Tyson Foerster No. 23 overall on Tuesday. A current Barrie Colt in the Ontario Hockey League, Foerster is known to shoot the puck a lot and shoot it well. While the Flyers definitely need help on offense, skeptics are calling out Foerster's skating issues. TBD if he'll be a major impact player in the upcoming season, but maybe this risk will one day reap its reward.
A second-half spark: Last night the Union earned a 3–0 win against Cincinnati FC to bring their regular season record to 9-4-3. We weren't not nervous when the score was 0–0 at the half, but then the boys found the DOOPs with goals from midfielders Ilsinho and Alejandro Bedoya and defender Jack Elliott. That's the way to end it!