The GIST: The Washington Football Team (WFT) are in the driver's seat atop the NFC East but face a tough test ahead. On the college front, an incredible streak comes to an end.
December 18, 2020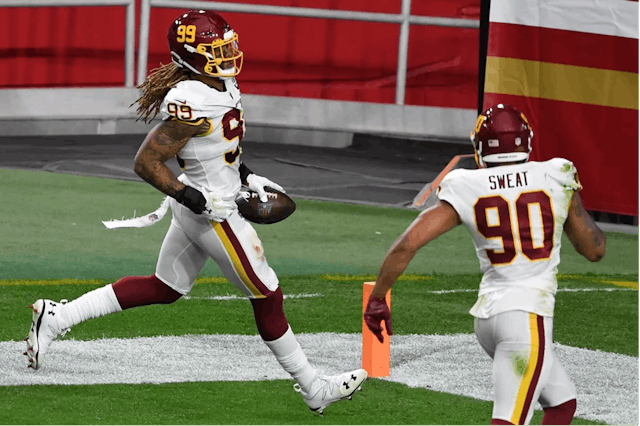 SOURCE: NORM HALL/GETTY IMAGES
The opponent: On Sunday, the WFT will face the Seattle Seahawks, led by QB Russell Wilson. This means the WFT defense, starring rookie defensive end Chase Young and rookie safety Kam Curl, will need to summon more of last week's magic to limit Wilson.
The WFT offense: Okay, we're kind of worried about them. Rookie running back Antonio Gibson didn't practice yesterday and could miss his second straight game with a turf toe injury. QB Alex Smith, who left last week's game with a calf strain, didn't practice yesterday either.
The team's optimistic that Smith will play on Sunday, but it's still possible we'll see more of former starter Dwayne Haskins, who finished last week's game in relief. The good news? The Seahawks did lose to the NY Giants and their backup QB two weeks ago...
College: Yesterday, Virginia Tech announced that the players have chosen to opt out of a bowl game. In addition to concluding a taxing season, this ends the Hokies' bowl streak — the longest active one in the nation — at 27 years. As they say, all good things come to an end.