The GIST: USC's last Sweet Sixteen appearance was in 2007 and UCLA's was in 2017. Seeing our LA squads make deep runs in this year's tournament would be as sweet as a Sprinkles cupcake.
March 17, 2021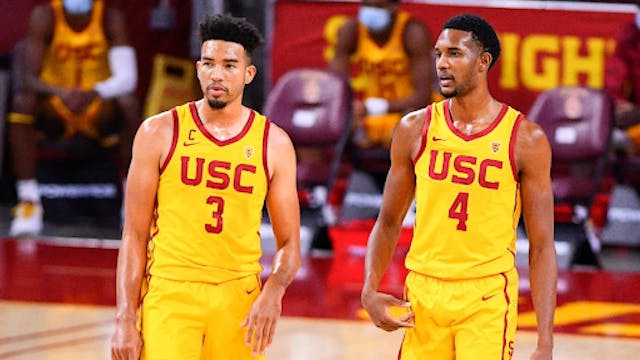 Source: Brian Rothmuller/Icon Sportswire via Getty Images
No. 6 USC vs. No. 11 TBD: USC's first-round opponent is still a mystery for now. The sensational Evan Mobley and the Trojans will take on the winner of Thursday's play-in game between Wichita State and Drake (the school in Iowa, not the rapper) on Saturday at 4:30 p.m. ET/1:30 p.m. PT. Wichita State, led by Tyson Etienne, could like they have all season.
If it's Drake, keep an eye on their leading scorer ShanQuan Hemphill. He broke his foot in December and might make his return in the NCAA tourney. Possible gamechanger.
No. 11 UCLA vs. No. 11 Michigan State: UCLA, most recently losers of four straight, is stuck in a doozy of a play-in game against Michigan State. The Thursday 9:57 p.m. ET/6:57 p.m. PT battle between the two storied programs determines who earns party challenge BYU in the first round. And good to note, BYU just gave national championship favorite Gonzaga . Tough road.