The Phoenix Mercury's Shey Peddy netted a three-point buzzer beater to eliminate her former team, the Washington Mystics.
September 17, 2020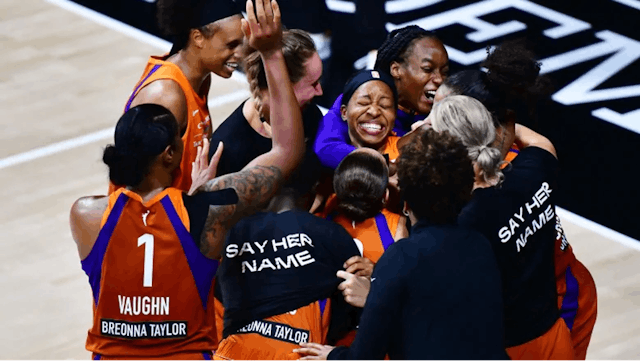 SOURCE: JULIO AGUILAR/GETTY IMAGES
The GIST: What's the best way to get revenge on the team that cut you a month before the postseason? Hit a buzzer beater to eliminate them from the WNBA playoffs, just like Shey Peddy did on Tuesday.
Yes girl! Tell me more: In August, Peddy was dropped from the eighth place Washington Mystics and quickly picked up by the fifth place Phoenix Mercury. Thanks to some fun basketball karma, the teams faced off in Tuesday night's first round single-elimination playoff game.
Down by two with less than a second left, Peddy nailed a three-pointer to secure an 85–84 win over the Mystics, knocking them out of the postseason. Talk about throwing Shey-de! The Mercury will now play the Minnesota Lynx in the second round.
Love it! What about the other game?: Before that nail-biter, the No. 7 Connecticut Sun upset the No. 6 Chicago Sky in a not-so-nail-biting 94–81 win and will move on to face the LA Sparks. Reminder: the second round of the playoffs is also single-elimination. How are your nails looking?