The GIST: With the college football regular season nearing its conclusion, a handful of conference championship matchups were determined over the weekend. Queue up some Taylor Swift to prepare for these title game showdowns.
December 07, 2020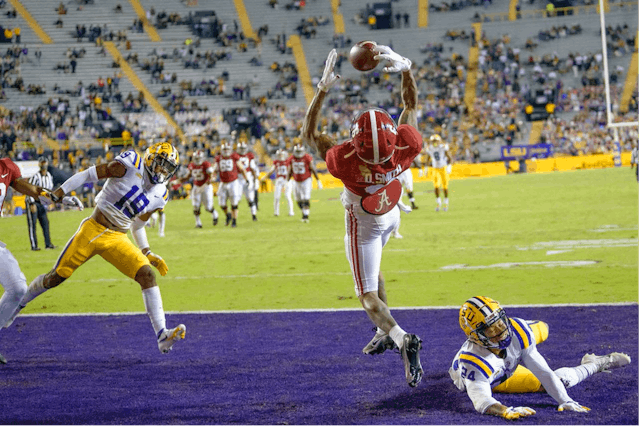 SOURCE: MATTHEW HINTON/AP PHOTO
Tell me more: No. 1 Alabama and No. 6 Florida will battle for the SEC title. The undefeated Crimson Tide continued to roll on Saturday, avenging their 2019 SEC West title loss with a 55–17 rout of defending national champion LSU.
Meanwhile, No. 2 Notre Dame and No. 4 Clemson will battle it out for the ACC Championship. Their regular-season matchup had no shortage of drama, highlighted by double overtime back-and-forth action and lowlighted by a subsequent storming of the field.
Notably absent from that regular-season contest was Clemson's star quarterback (QB) Trevor Lawrence, who has since returned to action after recovering from COVID-19. Revenge is a dish best served cold.
Can't wait! Any other college news?: On the basketball front, men's hoops continues to struggle with COVID-19 cancellations, with the highly anticipated matchup between No. 1 Baylor and No. 2 Gonzaga as the latest to be disrupted.
In women's hoops, a new No. 1 will likely be crowned this week thanks to No. 8 NC State's 54–46 upset victory over current No. 1 South Carolina. The loss was the Gamecocks' first in over a year, snapping a 29-game win streak.
Dawn Staley's squad seems to have already shaken off the loss, defeating No. 23 Iowa State 83–65 yesterday. But expect a shake up when the new Top 25 rankings are released today.