The GIST: The Eagles extended their losing streak to four after falling 30–16 to the Green Bay Packers yesterday. We're officially putting the Birds on our naughty list.
December 07, 2020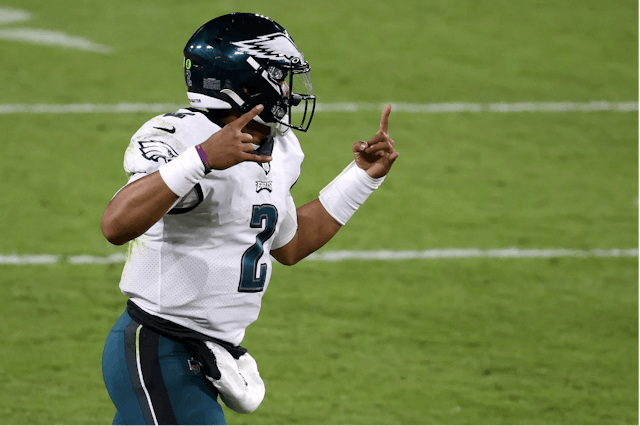 SOURCE: DYLAN BUELL/GETTY IMAGES
Same, same but different: Most of the game felt like the same sad Eagles: the offensive line was abysmal, allowing four sacks in the first half and contributing to QB Carson Wentz's struggles. He completed six of 15 passes, and the Birds only managed to score an early field goal through the first three quarters.
Things were looking dire until head coach Doug Pederson made the switch Philly fans have been asking for for weeks: rookie Jalen Hurts in for Wentz.
It's drama: Hurts brought much-needed energy to the team, and the Birds quickly went on a scoring run. Hurts' first NFL touchdown pass and fellow rookie Jalen Reagor's 73-yard punt return cut the Eagles' deficit down to seven points. Sadly, the defense allowed a late 77-yard touchdown run by Green Bay running back Aaron Jones to secure the win for the Packers. Close, but no cigar.
Although we hate to see an Eagles loss, the QB switch has piqued our interest. Pederson won't yet say if the switch is permanent, but with a 3-8-1 record and only four games left, it might be time to start looking towards the future.