Washington Football Team aims to grow new fan base with new identity
October 22, 2020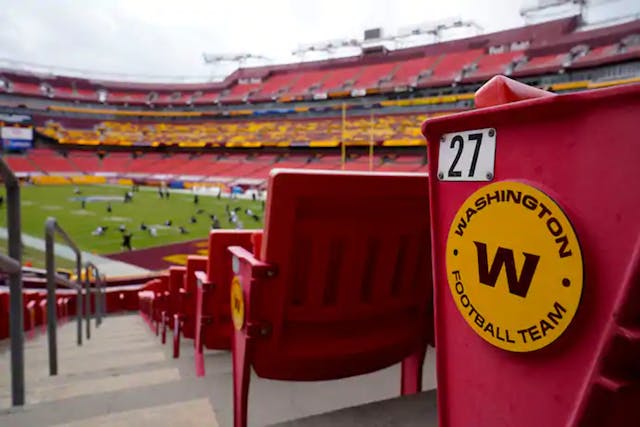 SOURCE: SUSAN WALSH/AP
The GIST: The Washington Football Team (WFT) will stay the WFT while they look to snap a five-game losing streak against the Dallas Cowboys this weekend. Six isn't a charm.
What's in a name?: Sounds like the WFT name is sticking around for at least another year. On Tuesday, WFT president Jason Wright said, "We want to grow this fan base as part of our new identity."
Our question: How can a "new identity" be built over two years, just to have another one built after that? After finally removing an 87-year-old racial slur moniker and racist mascot in July, we understand the desire to do things right this time. But is it just us, or does this seem like a money grab? Speed it up!
A glimmer of hope: On the field, the WFT face their longtime rival Dallas Cowboys on Sunday at 1 p.m. ET. The Cowboys look shaky without star QB Dak Prescott and having backup QB Andy Dalton at the helm instead. This means WFT cornerback Kendall Fuller, who is tied for the league lead in interceptions, could make a serious impact. Thanks to the dumpster fire that is the NFC East, the WFT are somehow, improbably in the playoff race.
One more thing: GISTers, we're so grateful for your support of our regional content and would love your help to make it even better by completing this v. short survey. Thanks so much!