August 02, 2021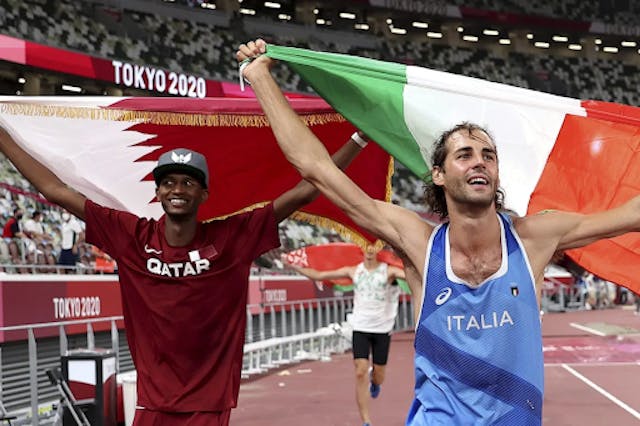 Source: Christian Petersen/Pool Photo via AP
❤️Share the love: After competing in sweltering heat for two hours, Qatari ​​Mutaz Barshim and Italian Gianmarco Tamberi were tied for the lead in the men's high jump. Though they could settle the winner in a jump-off, Barshim suggested the two friends (negating a silver medal) and the official said...sure. Sharing is caring.
🤍Trans pride: Kiwi weightlifter Laurel Hubbard made history today as the first openly transgender Olympian to compete in an individual event. Unfortunately, after failing all three of her attempts, she was ousted from the women's 87+kg event early.
And with CanWNT's win, Quinn becomes the first openly trans team-athlete to compete for gold. Representation matters.
💙Keep safe: Belarusian sprinter Krystsina Tsimanouskaya is seeking asylum in Japan following an incident with her national team. After allegedly making critical comments about the national coaching staff, the sprinter — who was set to compete today — was forcibly taken to the airport, but refused to return to Belarus.
She is now confirmed to be "" and has found refuge at the Polish embassy, where she's been granted a humanitarian visa.