This Week from UCLA, USC, the Lakers, and the Clippers
March 22, 2021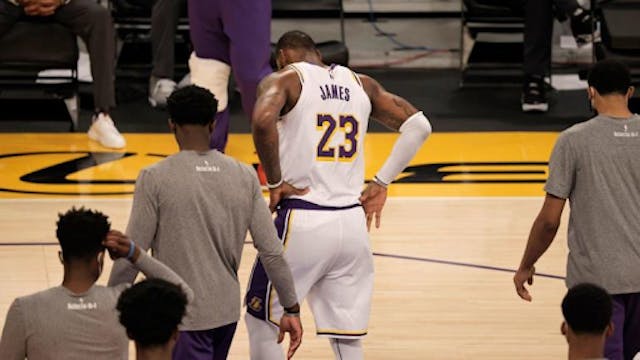 Source: Getty Images
Lakers: Life without LeBron is rough. With King James and Anthony Davis out with injuries, the Lakers shot poorly from three-point range to drop a 111–94 affair to the Phoenix Suns last night. The Purple and Gold need to find ways to win games in LeBron's absence. Eek.
Clippers: With LeBron out indefinitely, our other LA team could take advantage. The Clippers are currently fourth in the Western Conference, just one game behind the Lakers. The Clips can make that gap even smaller with a win against the surging Atlanta Hawks tonight at 10 p.m. ET/7 p.m. PT. Spicy.
College: Both the USC and UCLA men's squads could make our Sweet Sixteen dreams come true with wins tonight. After defeating Drake in the first round on Saturday, 6-seed USC faces 3-seed Kansas tonight at 9:40 p.m. ET/6:40 p.m. PT. We bet (projected as a top-two NBA draft pick) will power the Trojans to the upset victory.
Meanwhile, after pulling through the First Four, 11-seed UCLA upset 6-seed BYU in the first round. With a favorable matchup against 14-seed Abilene Christian today at 5:15 p.m. ET/2:15 p.m. PT, and the Bruins have a great shot at advancing.
Cap off your night by watching the 3-seed UCLA women. The Bruins kick off their March Madness campaign tonight at 10 p.m. ET/7 p.m. PT against the 14-seed Wyoming Cowgirls. Saddle up.