The GIST: The Lone Star State will be well represented in Indiana. We're going to dive deep into two of the hometown favorites and two of the local schools. Don't mess with Texas.
March 17, 2021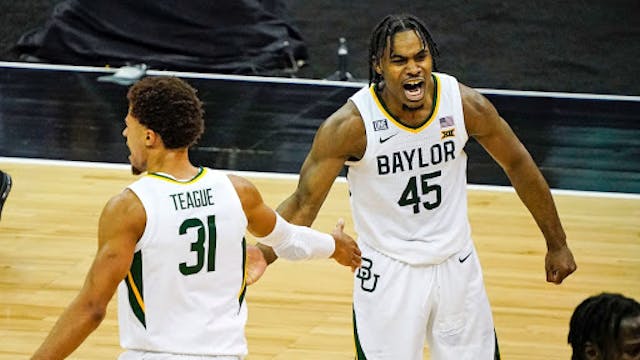 Soure: Jay Biggerstaff/USA TODAY Sports
No. 1 Baylor: Despite their Big 12 semifinal loss, the top-seeded Bears are poised to make a deep run in the tourney. With Jared Butler and Big 12 Defensive Player of the Year Davion Mitchell leading the way, watch for Baylor to make their 13th March Madness appearance the luckiest yet.
No. 3 Texas: Fresh off their first Big 12 tournament title in school history, the Longhorns are hitting their stride at the perfect time. Andrew Jones leads the team with 14.6 points per game and with Big 12 Sixth Man of the Year Kai Jones coming off the bench, Texas is rolling deep. Hook 'em Horns.
No. 14 Abilene Christian: It'll be an all-Texas showdown when Abilene Christian takes on the Texas Longhorns on Saturday at 9:50 p.m. ET/8:50 p.m. CT. Don't let the seedings fool you, the Wildcats can shoot the three and their biggest strength is defense. You know what they say: defense wins championships.
No. 13 North Texas: The Mean Green rallied in overtime to win the Conference USA tournament, thanks to Javion Hamlet with 14.1 seconds remaining. Now the question is whether a first round upset is to be or not to be. If Hamlet can keep up his recent play, we're thinking No. 4 Purdue could be green with envy on Friday.