March 17, 2021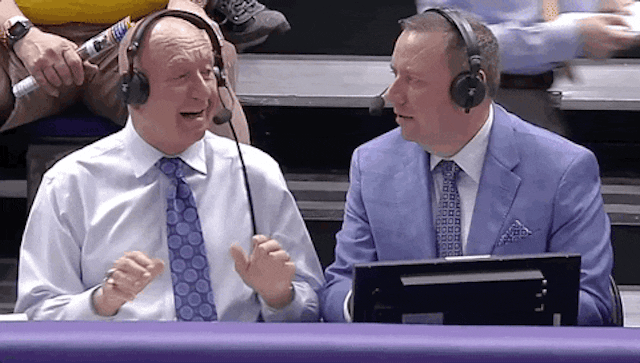 SOURCE: ESPN/GIPHY
QUOTE OF THE DAY
I just think it's unbelievably great...we are going to have a tournament...I want to dance about it. I want to get up and dance, baby.
— College basketball broadcasting legend Dick Vitale (pronounced VI-TAL), describing how we all feel heading into March Madness, especially after last year's tourney was canceled. Never change, Dickie V.
🏀 The format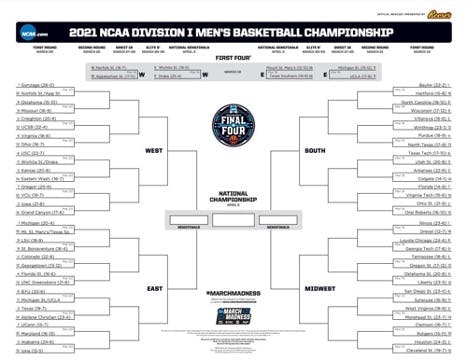 SOURCE: NCAA
After a long and bumpy road, with a lengthy list of COVID-19-related cancellations, we finally made it to the Big Dance. Thirty-one teams automatically qualified for March Madness by winning their conference tourneys, then the remaining 37 at-large bids were handed out during the Selection Sunday festivities.
All 68 teams were reseeded and assigned rankings one through 16 (pending winners of tomorrow's "First Four" games) in each division — the West, East, South and Midwest.
Tomorrow's slate features four games, the aforementioned "First Four" play-in contests, to determine the final spots in the 64-team main bracket. Winners of those contests go on to play in the official first round of competition, which kicks off on Friday.
After that, we're in for the second round, then My Super the Sweet Sixteen tips off, which are whittled down to the Elite Eight, followed by the Final Four and finally the championship game scheduled for April 5th. Bring on the madness!
😷 The protocols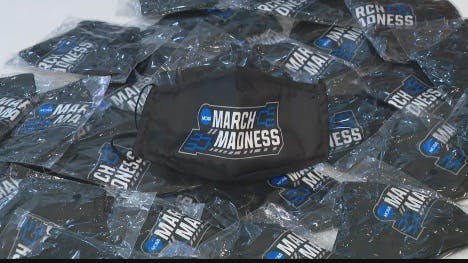 SOURCE: FORT WAYNE'S NBC
ICYMI, we're still in a global pick-and-roll, so the 68 teams descended on Indianapolis, Indiana, where the men's tournament is being held in a bubble-like environment.
Some schools dealt with COVID-19 issues during last week's conference tourneys, and now all team members are required to produce seven days of consecutive negative tests in order to compete. *knocks on wood*
There will also be a limited number of fans in the stands this year. Each of the tournament's 67 single-elimination games will be played in front of a crowd at 25% capacity. Ball's up, mask on.
👀 Teams to watch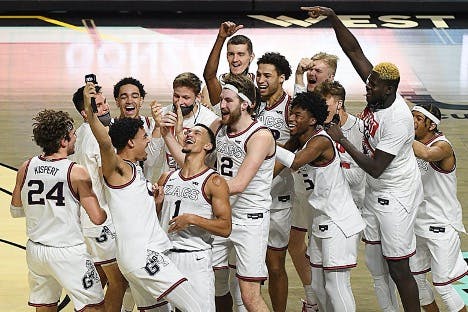 SOURCE: ETHAN MILLER/GETTY IMAGES
The favorites: All eyes are on the West region's Gonzaga, the overall No.1-seed, as they ride a 23-game double-digit margin win streak into the tourney. The 'Zags are looking to complete the first men's undefeated season since the Indiana Hoosiers pulled it off in 1976. And to think Hannah said nobody's perfect.
In the South region, Baylor grabbed their first No. 1 seed in school history and hopes to avenge their second-round exit in 2019's tourney. No. 1 Illinois sits atop the Midwest region, coming off a huge Big Ten championship win.
While Michigan is the No. 1 seed in the East, they just lost star senior Isaiah Livers to a foot injury, making No. 2 Alabama the new favorite to emerge from the East region. Roll tide.
Cinderella story alert: March Madness is all about the upsets, so which teams are most likely to crash this year's party? Keep your eyes on No. 8 Loyola Chicago. In 2018, thanks to their good luck charm Sister Jean, the then No. 11 seed made the Final Four and still boast experienced players from that magical run.
Another team to watch is the No. 12 Winthrop Eagles. Having lost just one game all season and their last three wins coming by double-digit margins, the Eagles face a struggling No. 5 Villanova squad in their first round matchup.
Who won't be there: This year's tourney will be missing some familiar faces. For the first time since 1976, both Duke and Kentucky — two hoops powerhouses — will miss the Big Dance. And we thought 2020 was wild.
💪 Players to watch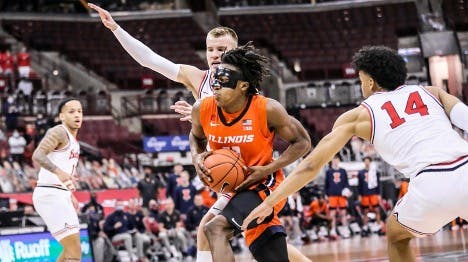 SOURCE: KELSEA ANSFIELD/ILLINOIS ATHLETICS
Ayo Dosunmu (pronounced DUH-SUE-MOO), Illinois: No, that's not Batman behind that mask, but he's sure playing like a superhero. First-team All-America guard Dosunmu led No. 1-seed Illinois to their first tourney appearance since 2013.
Luka Garza, Iowa: The two-time Big Ten player of the year is averaging a whopping 23.7 points per game for No. 2 Iowa. Garza is a favorite to win National Player of the Year and is "laser focused" on bringing the Hawkeyes' their first-ever national title.
Cade Cunningham, Oklahoma State: The projected No. 1 overall NBA draft pick is making the most of his only college season. Not only did he win Big 12 Freshman of the Year, Cunningham was also the Big 12 Player of the Year...now he just needs a championship to fill out his trophy case.
Jalen Suggs, Gonzaga: Suggs might be a freshman, but he plays like a vet. The West Coast Conference (WCC) Newcomer of the Year came up big for the undefeated 'Zags all season, including netting back-to-back threes to lift Gonzaga to the WCC championship. So clutch.