The GIST: Needless to say, the 3-6-1 Eagles are desperate to add a win to their tragic record as they take on the 7-3 Seattle Seahawks tonight on Monday Night Football. Hopefully they can follow the Penn State (PSU) Nittany Lions' lead and turn their losing streak around.
November 30, 2020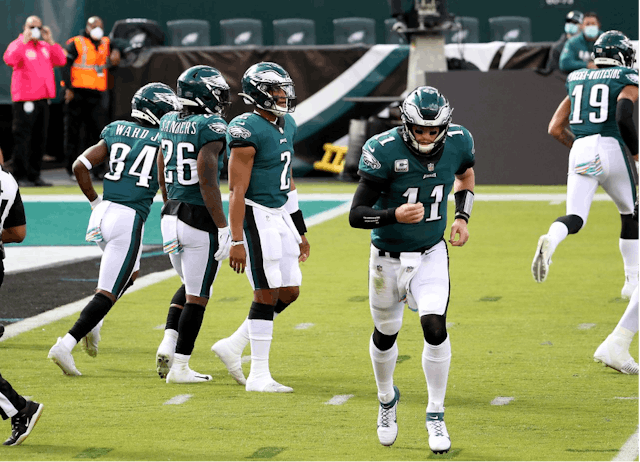 SOURCE: LORI M. NICHOLS/NJ ADVANCE MEDIA
Crunch time: The Eagles are trailing both the New York Giants and the Washington Football Team by half of a game in the race for the NFC East title, which they need to win in order to make the postseason. We're hoping the Birds' desperation will help them find ways to score against a Seahawks defense that is the worst in the league for yards allowed per game.
While the Birds are still holding out hope that QB Carson Wentz can bring the spark they need, they have also been prepping rookie QB Jalen Hurts more than usual this week. Interesting.
Momentum, baby: On Saturday, the Nittany Lions finally broke their winless streak by beating everyone's least-favorite Big Ten East team, the Michigan Wolverines, 27–17. PSU utilized their running game efficiently, which took pressure off QB Sean Clifford and opened up receivers.
The key to victory for the Nittany Lions is avoiding the turnovers which have plagued them all year. Although there's not much remaining hope this season, let's hope PSU can build off this win and continue developing young players for next year.