After 4 players and 5 staff members from the Titans tested positive for COVID-19, will the NFL reconsider their decision about bubbles?
October 01, 2020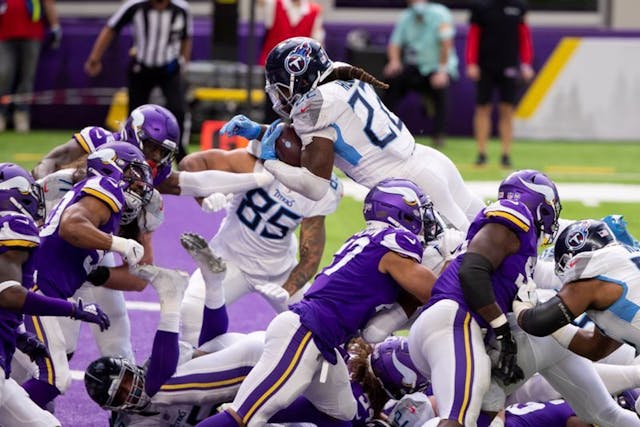 SOURCE: BRAD REMPEL/USA TODAY SPORTS
The GIST: New COVID-19 cases may have the NFL reconsidering their decision to forgo bubble environments during the regular season. No trouble in the bubble!
What happened?: After four Tennessee Titans players and five team personnel tested positive for COVID-19 this week, the Titans closed their facilities until Saturday, and the league was forced to reschedule their blockbuster game against the equally undefeated Pittsburgh Steelers from Sunday to Monday or Tuesday. A major, but not entirely unforeseen, hiccup.
Are any other teams affected?: The Minnesota Vikings, who played against the Titans last Sunday, haven't reported any positive tests, but they did close their practice facilities as a precaution. They're planning on reopening today ahead of Sunday's game against the Houston Texans.
These COVID-19 developments are shining extra light on some health and safety rulebreakers around the league. A few Las Vegas Raiders, including quarterback Derek Carr, are in hot water after they were spotted at an indoor charity event without masks. Seriously, guys?

The league is also threatening suspensions for coaches and personnel who don't wear masks on the sidelines during games. Some coaches, including Raiders head coach Jon Gruden, have already been fined $100,000 for not wearing their mask, and their respective teams were fined $250,000 as well.
Yikes!: And it's not just the pros. Notre Dame's football team announced 18 positive COVID-19 cases this week and has placed 25 players in isolation and 14 in quarantine, after the team ate a meal together ahead of their game against South Florida on September 19th. You know what they say: the family that eats together, stays together...in quarantine.