The GIST: The Mavericks welcomed the return of star center Kristaps Porziņģis, while the Stars are just hoping to see the return of hockey, after 17 (!!!) players tested positive for COVID-19.
January 14, 2021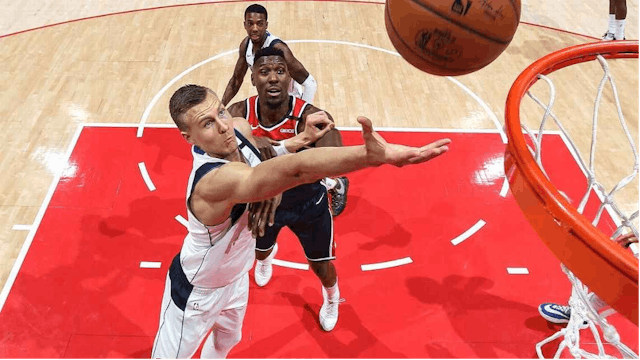 SOURCE: STEPHEN GOSLING/NBAE VIA GETTY IMAGES
🏀Mavericks: In his first game back since a season-ending knee injury, Porziņģis showed no signs of rust, dropping 16 points in limited minutes during his season debut. Don't call it a comeback. Luka Doncic was happily reunited with his best buddy, dropping 34 points of his own as the Mavs sailed to an 104–93 win over the Charlotte Hornets.
Porziņģis' return could not come at a better time, as the Mavs got off to a slow 5-4 start without The Unicorn. And they'll need his help for tomorrow night's 7:30 p.m. ET/6:30 p.m. CT matchup with reigning league MVP Giannis Antetokounmpo (pronounced YONNIS ANDEDO-KOONPO) and the Milwaukee Bucks.
🏒Stars: Feeling that FOMO? Same. While the rest of the NHL enjoys their season openers, we'll have to wait until at least next Tuesday for the puck to drop due to the Stars' ongoing COVID-19 issues. The NHL reported their training camp testing numbers on Tuesday and 17 of the 27 players who tested positive were from Dallas. Not good.
Luckily, most players are asymptomatic and on their way to recovery. But handling a COVID-19 outbreak is just the first test for Dallas. In a rematch of last year's Stanley Cup final, the Stars will face the defending champion Tampa Bay Lightning in next Tuesday's season opener. No pressure, no diamonds, right?