The GIST: ICYMI, the Eagles benched their franchise quarterback (QB) Carson Wentz mid-game last week. After days of non-answers, head coach Doug Pederson finally announced that Jalen Hurts will start on Sunday. And you thought season four of The Crown was dramatic.
December 10, 2020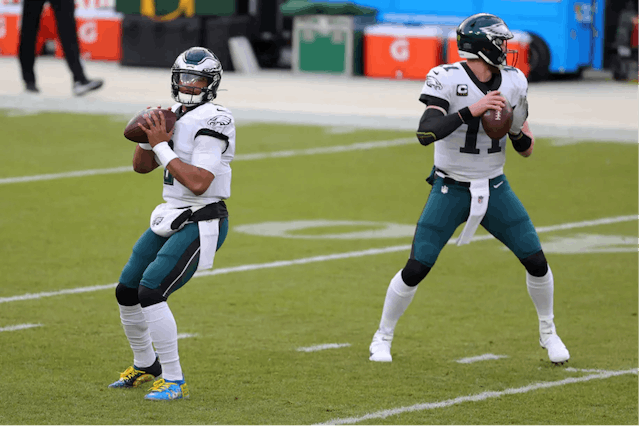 SOURCE: STACY REVERE/GETTY IMAGES
Breaking up is hard to do: Between a pathetic offensive line and a litany of injuries, Wentz has had it rough this season. Despite his poor play, the Eagles still gave him many chances, but much of this is because the Birds have invested a lot in him. Wentz is still playing under his rookie contract; however, in 2018 the Eagles signed a four-year, $128 million extension agreement to keep him on until 2024. Yikes.
If Hurts can prove that he is the better long-term option, get prepared for the Eagles to try to recoup their money by trading Wentz.
Every man for himself: There's no guarantee head coach Pederson will stay in Philly either. If Hurts does well, it could relieve some of the pressure on Pederson, but many are calling for his firing regardless. In his position, it's worth taking a few risks and giving Hurts this chance.
Hurts, a rookie from Oklahoma drafted in the second round earlier this year, held his own last week. But the Birds face a tough opponent in the 10-2 New Orleans Saints on Sunday, and all eyes will be on the young QB. No pressure.