The GIST: There's a lot of drama in the NFL these days. So before hopping into the on-field action, let's talk about what's happening off the field.
November 30, 2020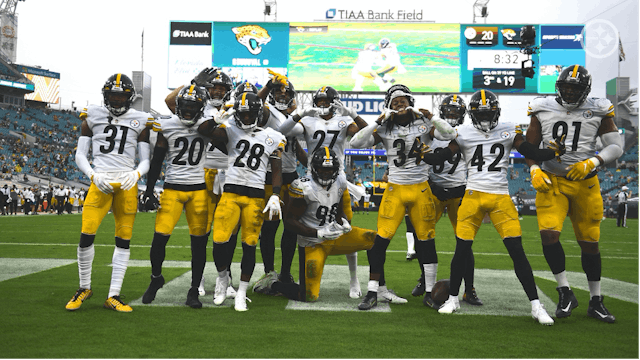 SOURCE: PITTSBURGH STEELERS/TWITTER
Where to start?: The undefeated Pittsburgh Steelers (10-0) had their highly anticipated Thanksgiving game against the Baltimore Ravens (6-4) postponed to yesterday and then again to tomorrow night due to ongoing COVID-19 issues with both teams.
As of yesterday, the Ravens had 22 players on the COVID-19 reserve list. For their part, the Steelers have placed four players, including running back (RB) and cancer survivor James Conner, on the list, too.
Yikes: Yikes is right. In other COVID-19 news, all four Denver Broncos quarterbacks (QBs) were put on the COVID-19 reserve list after one of them tested positive last week and the other three interacted with him without masks, leaving the team QB-less heading into yesterday's matchup against the New Orleans Saints.
The NFL chose not to postpone the game (cue eye roll), leaving the Broncos with little choice but to promote practice squad wide receiver (WR) Kendall Hinton to starting QB. The Broncos also tried to sign offensive assistant coach Rob Calabrese as back-up, but the league wouldn't allow it.

To no one's surprise, NOLA won 31–3. Guess they won't be making a Keanu Reeves movie about this game.
Is the NFL trying to fix this mess?: Apparently, but it doesn't seem to be working. Moving in the right direction, the Saints and New England Patriots are the latest teams to be fined for protocol violations, and the league is also looking at bubbles for the playoffs.