Chargers need to clean up their game, PAC-12 is back!
November 05, 2020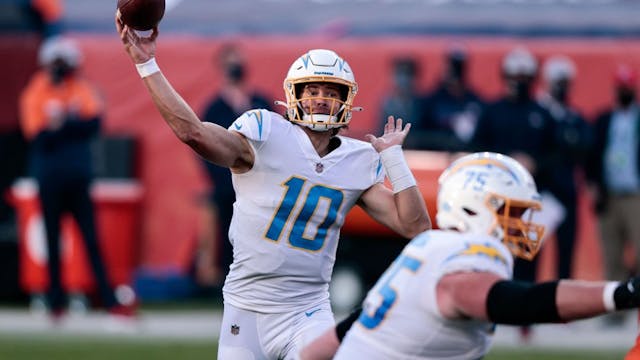 SOURCE: ISAIAH J. DOWNING/USA TODAY SPORTS
The GIST: The Rams are on their bye week. The Chargers need to sort their sh!t out. The Dodgers brought home even more hardware. And Pac-12 football's back. Let's go, LA!
🏈In the hot seat: Are head coach Anthony Lynn and his coaching staff really the right group to lead the Chargers? After four consecutive blown leads, the needle's not tilting that way. With dynamic young QB Justin Herbert at the helm, the Chargers should be better than their 2-5 record.
The Chargers will hope to build (and maintain) a lead against their AFC West division rival Las Vegas Raiders on Sunday at 4:05 p.m. ET/1:05 p.m. PT. Without a win, Lynn might not lead the way much longer.
⚾️Bling bling: Unlike the Chargers, the Dodgers just keep winning. On Tuesday night (as if nothing else important was happening, SMH MLB), right fielder Mookie Betts won his fifth-straight Gold Glove Award and his first with the Dodgers. With catches like this, we'll always bet on Betts.
Astonishingly, even with catches like this, center fielder Cody Bellinger did not win his second-straight Gold Glove. But we guess being a character in a video game is a pretty sweet consolation prize.
🏈They're baaack: Like we said, Saturday's the big day. No, no wedding bells. Pac-12 football is back, baby! Start your weekend early with No. 20 USC hosting Arizona State at 12 p.m. ET/9 a.m. PT. Not part of the Trojan Family? UCLA faces Colorado at 7 p.m. ET/4 p.m. PT. Back the Pac!