Jets are 0-7 and things aren't looking up for the rest of the season, so let's look ahead to the 2021 NFL Draft.
October 29, 2020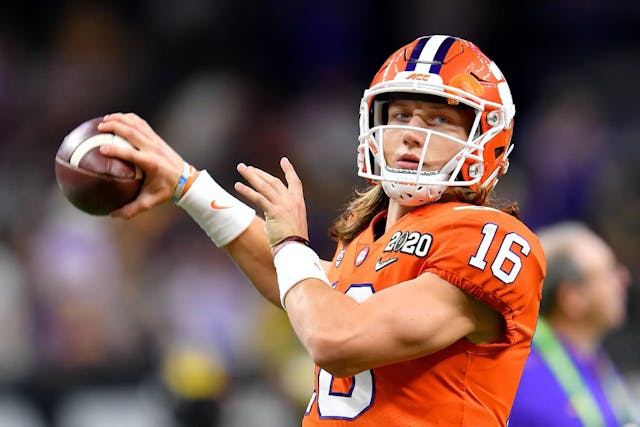 SOURCE: ALIKA JENNER/GETTY IMAGES
The GIST: The 0-7 Jets are facing the Kansas City Chiefs this weekend, and it's almost guaranteed to be a blowout. So instead of diving into that mess, let's focus on what could be the future of the Gang Green.
Tank for Trevor: It would take a miracle to save the abysmal Jets from finishing towards the bottom of the league come January, so it's time to start talking about the 2021 draft. Each team gets a pick every round (unless they've traded it), but the order of the first 18 picks is determined by the regular season standings. Meaning the Jets might actually place first in something.
The No. 1 overall draft pick is always a superstar and often a quarterback (QB), like Joe Burrow and Kyler Murray the last two years. Prospects must be out of high school for at least three years to be eligible for the NFL draft — and you know who's in the midst of his third year? Clemson Tigers QB Trevor Lawrence.
Generational superstar: Lawrence shot into the spotlight during the 2018-2019 season, when he became the first true freshman QB to lead his team to a national title since 1985. He's continued to get better each year, taking the Tigers to the National Championship game last season and yet again leading an undefeated Clemson team this year.
Decisions, decisions: Recently engaged Lawrence is from Football Country, Georgia and has been looking forward to his shot at the NFL since high school. But thanks to the Jets' inability to put together a functional football team, some of his recent comments indicate he'd consider staying at Clemson for his senior year over being drafted by the Jets. Yikes.
While the choice is in Lawrence's magical football hands, J-E-T-S Jets fans can only hope the big time in the Big Apple will allure him.