The GIST: While the v. injured Lakers signed Andre Drummond yesterday to upgrade the center position, the USC and UCLA men are absolutely rolling. Watch out, here comes LA.
March 29, 2021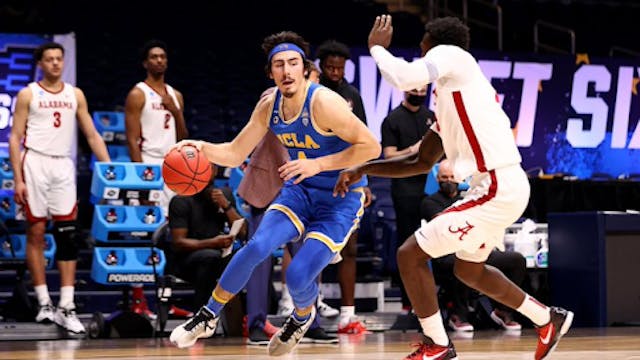 Source: UCLA Men's Basketball/Twitter
USC: For the forever 20 years, USC is back in the Elite Eight! The No. 6 Trojans sent the No. 7 Oregon Ducks quacking home with a 82–68 victory last night. We're accustomed to freshman sensation starring for the Trojans, but Isaiah White drained a career-high four 3-pointers to finish with a team-leading 22 points. Go off.
The Trojans need to be on their A, no, their A+ game tomorrow night at 7:15 p.m. ET/4:15 p.m. PT when they face top-seeded powerhouse Gonzaga. Fight on.
UCLA: From the First Four to the Elite Eight...can we get an 8-clap? No. 11 UCLA pulled off the overtime upset over No. 2 Alabama last night. The Bruins squandered their double-digit halftime lead and really had us sweating for the rest of the game. *wipes brow*
Top scorer Johnny Juzang late in regulation, but five other Bruins scored double figures to grind out the victory. They'll need more of that grit tomorrow at 9:57 p.m. ET/6:57 p.m. PT against No. 1 Michigan. Are the glory days back?